Welcome to the Helmet or Heels Female Motorcycle Community!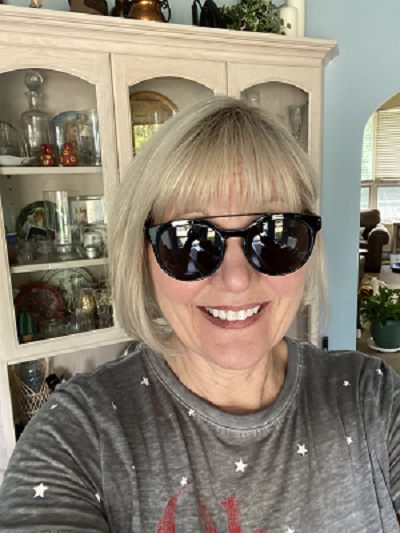 About Me – Helmet or Heels
My name is Pam and I am so glad you stopped by today! I started this blog to document my journey into motorcycling and along the way I met so many other lady riders with inspiring stories to tell I began to share theirs as well.
About the same time I started this blog I joined Twitter (@helmetorheels) and began to meet other female motorcycle riders. These ladies were so inspiring to me because I found other newbies like me to life-long experienced riders who were willing to share encouragement, tips, and their friendship. I was welcomed where I was in my journey. What an incredible community I found online to fuel my desire to ride.
My Motorcycles
My first motorcycle: Honda Nighthawk 750cc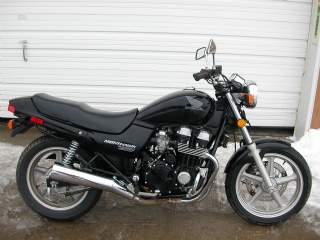 My motorcycling journey is full of fun and adventurous riding with my hubby. I am more of a casual rider that includes commuting when able, but I mostly do weekend day rides. My first cycle was a Honda Nighthawk 750cc. Powerful, mighty, and mean is how I would describe the Nighthawk. At this time, hubby and I shared the Nighthawk. I was still testing the water to see if I liked motorcycling and if motorcycling liked me! The result is I fell in love with two-wheel riding even though this bike was a lot of motorcycle for my first ride.
Motorcycle #2: Suzuki V-Strom 650cc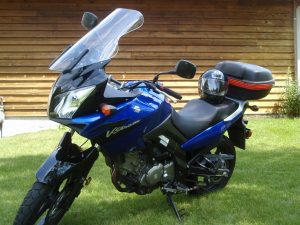 It did not take long for me to want to ride with hubby so we needed to get another motorcycle. We thought it best that I find something a little less beefy and easier to handle for a newbie. I'd only been riding a few years casually but the Nighthawk was a challenge. That's when we found the Suzuki V-Strom 650. Wow. What a difference in handling! Curves and twisty roads became fun to ride. And it came with a carrying case on the back so commuting just got a whole lot easier. And with the case on the back running to the grocery store just got a whole lot more fun!
Twinning with Suzuki V-Strom 650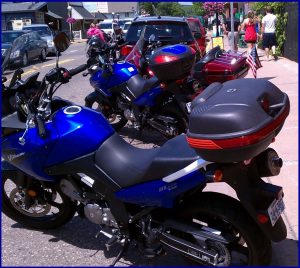 My husband loved this bike too, he sold the Nighthawk, and pick up almost the exact same motorcycle! Check it out. His case on the back was slightly different and had engine guards, but basically we were twinning when it came to motorcycles. Finally, we could ride together and started taking a lot of day trips out and about exploring Minnesota.
All was fun until I had to give up motorcycling and hang up my helmet. Christmas of 2013 I ended up in the hospital with a dissected vertebral artery (it's in the brain). Long story short the neurologist all said I needed to hang up my helmet. I sold my bike and shed a lot of tears. That was April of 2015. My husband eventually sold his bike since riding was a together thing for us.
I'm Back!
It is June of 2022 and things have changed. It has been almost nine years since my "brain thing" and have not had another incident. My hubby's commute is about 4 miles round trip and thought he would enjoy a scooter because it is easy to mount with his hip arthritis. I found a Honda PCX 150 – a twist and go – for his birthday. I took it for a ride around the block and realized my desire to ride has never gone away.
My husband picked up on that desire! Guess what he bought me as an anniversary gift? A 2022 Royal Enfield Meteor 350!! Oh my goodness! We had talked about me eventually getting something to ride, but I never expected such a marvelous bike for our anniversary. I can't wait to get back into riding and meeting other gals in the female motorcycle community.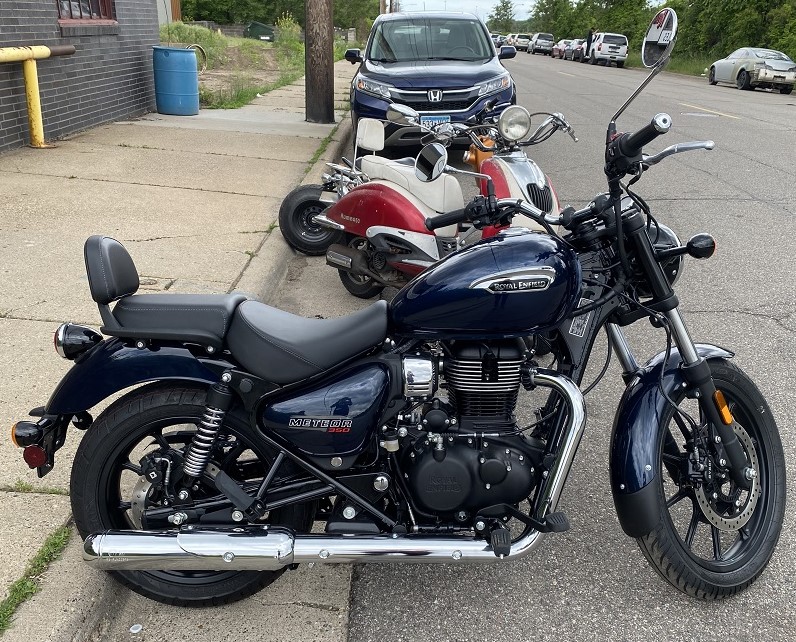 About the Helmet or Heels Female Motorcycle Community
Ladies, whether you are looking to start riding solo, a casual motorcyclist, a seasoned rider, or enjoying riding pillion you are all welcome to join in the Helmet or Heels community. I would love to share your story of motorcycling no matter where you are on the journey it will inspire other women along the way.
Helmet or Heels female motorcycle community is reader-supported. When you buy through links on this site, I may earn a commission at no cost to you. I thank you for your support to help grow this female motorcycle community and inspire other women to ride!
Catch us on Instagram @helmetorheels – we are just getting started!