I'm back! It's been quite a while since my last blog post on July 30, 2011. A lot has happened since then – mostly good. The not so good kept me off the bike most of last year, but that is over!! Yay!
I've also become a grandmother this past October. Unfortunately, my grandson is 1500 miles away. But, I've taken three trips in five months to see him. He's adorable.
Hubby and I are also going to increase our family. We are adopting a 2005 Suzuki 650 VStrom! I am so excited that this year we will finally be able to ride together! Here's a preview of my other "new" baby!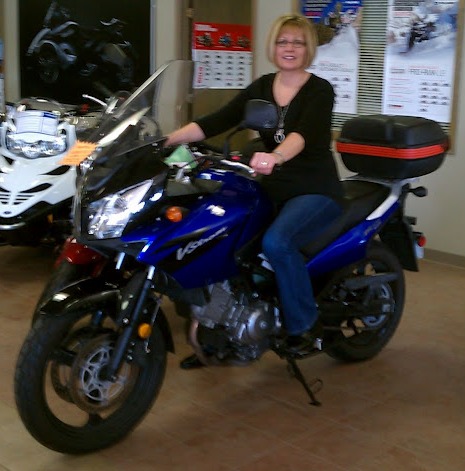 I'm Back!
We are looking to pick-up the bike later this week. The weather looks like it is going to cooperate with lots of sun and upper 60s! Yay!!
Can't wait to get back into riding, blogging, and tweeting this year! Missed y'all!
P.S. I'll post new pictures of our newest addition latter this week! And I'll have to work on changing my header bar picture!!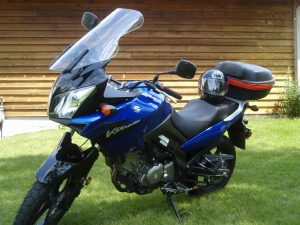 Pam here, and I'm so delighted you came by today and read, I'm Back! I started this blog to chronicle my introduction to riding a motorcycle, but as I went along, I met so many other female riders who had wonderful tales to share that I started sharing theirs as well.
I joined Twitter (@helmetorheels) at the same time I launched this blog and started networking with other female motorcycle riders. I met other rookies to lifelong seasoned riders who were willing to provide encouragement, advice, and their relationship with me, which is why these women were so motivating to me. Wherever I was on my journey, I was welcomed. What a wonderful community I discovered online to fuel my passion for riding.
Follow us on Pinterest @helmetorheels and Instagram @helmetorheels because we are just getting started!