Earlier this week we Minnesotans woke up to -9 F (-22 C) with a wind chill making it feel like -26 degrees. It is going to drop again tonight to -15 F (actual). Brrrrrrrr!! No use asking why I live here … but it's all a matter of perspective.
Today a coworker shared with me the hardship people in Los Angeles faced with cool weather. This video says it all! Thanks Jimmy Kimmel.
It's All a Matter of Perspective
If you are fortunate enough to ride all year round I hope you realize how blessed you are! Here in the great north we are in the deep freeze.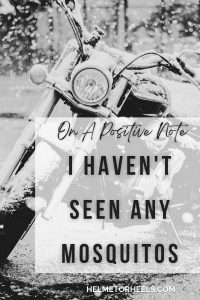 I am so glad you stopped by today! I started this blog to document my journey into motorcycling and along the way I met so many other lady riders with inspiring stories to tell I began to share theirs as well.
About the same time I started this blog I joined Twitter (@helmetorheels) and began to meet other female motorcycle riders. These ladies were so inspiring to me because I found other newbies like me to life-long experienced riders who were willing to share encouragement, tips, and their friendship. I was welcomed where I was on my journey. What an incredible community I found online to fuel my desire to ride. Catch us on Instagram @helmetorheels and Pinterest @helmetorheels – we are just getting started!