Today we will meet Bee from Holliston, MA! In her Profile of a Female Motorcyclist Meet Bee she shares a great personal story with lessons for all riders! To learn even more about her adventures check out Bee's blog Bee in the Wind.
Profile of a Female Motorcyclist Meet Bee
How long have you been riding a motorcycle?
Let's see… started at age 45, so this is year 7!
How did you learn to ride?
I took the MSF course and became good friends with my instructor, Carl.
For that first summer, I followed him around New England, putting over 5000 miles on my first bike in 2 months with day rides.
What was your first motorcycle?
V-Star 650
How many have you owned?
Two – my second bike, a 2006 HD Softail Deluxe, purchased 3 months after the first one.
Why did you want to ride a motorcycle?
It started with an interest in a scooter for commuting, but I wanted a big one. My husband said, "why don't you just get a real bike?" The rest is history.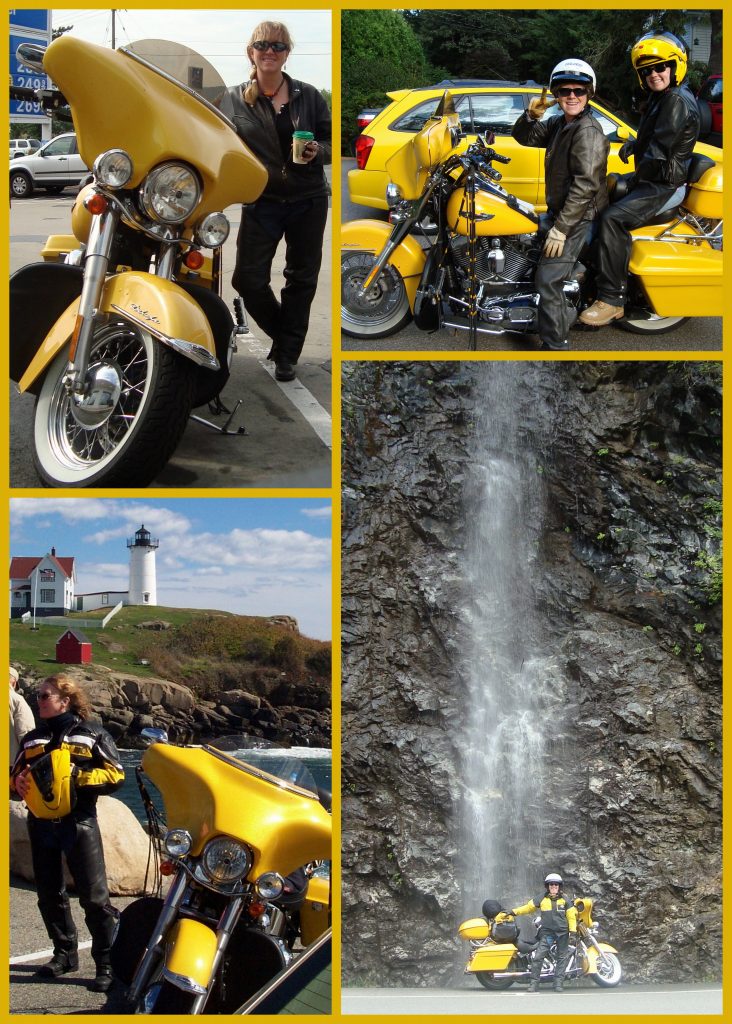 Tell us about your riding.
I have a very short commute, in fact it takes longer to back the bike out of the garage than it does to ride to work, so my riding is pleasure- a beautiful day is about 200-350 miles.
I have fallen smitten to long distance touring and spent a month touring the US on a mostly solo ride to celebrate turning 50.
I am eagerly hoping to have another cross-country tour in the next year or two. My wishful daydreaming includes off road biking.
What advice do you have for women who ride or want to ride a motorcycle?
Just do it … Be brave, follow your gut … hang on and go! If I had listened to all the naysayers when I wanted to learn, I would still be dreaming about it.
What is the longest trip that you've taken on your motorcycle?
400 miles short of 10,000 in 29 days. [Iron butt!]
Do you belong to any motorcycle groups?
I have my own motorcycle forum, called the Beehive…an informal group of friends that we call each other Hivers. I belong to a wide group called the Rumble Sisters, mostly an online community.
I have learned through the years of short affiliations with organized groups that I am better solo for the most part, although I happily ride with friends when the opportunity comes up.
Do you have a favorite riding story?
Ohhh I have tons! Mine often will be about the challenges of the road, when at the time I am miserable beyond end. But in the telling of the story, it gets funny …
Like the first time I encountered hail. My friend and I were in Kentucky, at the original Kentucky Fried Chicken to be exact. We were heading homeward after my first long tour from MA to Arkansas, and riding on a mountain pass highway.
Big dark clouds were rumbling behind us and we decided to make a run for it to stay ahead of them, jumping onto the bikes instead of donning rain gear. I learned that day, that one cannot actually outrun a thunderstorm … within two miles, we pulled off, hurrying to get into our rain gear, which as any rider knows, is a challenge to begin with.
Hopping around on the side of the road while the rain is already hitting you, makes it look like the Three Stooges.
Back underway, we are now riding more slowly as the rain was thickening. I don't tend to stop unless I cannot see, and being in the lead, just doggedly pushed onward. Suddenly it felt as though bullets were pelting my hands, and in the next instant, the world was white, being assaulted by little pea sized ice bombs. No choice but to pull over, unprotected.
The next lesson was that this road, cutting through the mountains, had no offerings of shelter at the sides, just rock walls. I learned that day what it feels like to be a big dumb cow standing out in a field during a storm.
My first impulse however, was to throw my body over my bike to protect it, it was still new to me and had a custom paint job, the last thing I wanted was hail dents! I am only 5'4″ … so you can imagine how comical this attempt was. The idea finally arrived to dig out my bike cover and we got under it, and held it over my motorcycle. (To heck with my friend's bike!!)
After 15 minutes or so, the storm moved on. But our forward momentum was super slow, because we kept catching up to the storm. Lesson three was that storms will follow the mountain passes, just like the road. It took 2 1/2 hours to go only about 40 miles, and I was wetter than I have ever been … EVER!! I was very glad to check into a hotel at the end of that day.
Two things on my bike now, having that storm as the reason: an umbrella and the use of watertight kayaking bags for my gear.
What do you do when you're not riding?
I am an artist, and own a sweet, girly gift shop in my home town. Very different from the biker chick that I have come to be!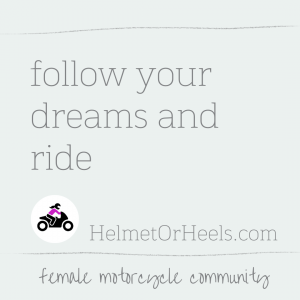 Thank you for reading Profile of a Female Motorcyclist Meet Bee! She shared lots of lessons for us. Ladies, whether you are looking to start riding solo, a casual motorcyclist, a seasoned rider, or enjoying riding pillion you are all welcome to join in the Helmet or Heels community. I would love to share your story of motorcycling no matter where you are on the journey. It will inspire other women along the way.
Catch us on Instagram @helmetorheels, Pinterest @helmetorheels or Twitter @helmetorheels – we are just getting started!