I'm excited to be adding another Profile of a Female Motorcyclist Meet Joanne! I was introduce to Joanne through a gentleman that stopped by the blog to let me know that a blogger was plagiarizing my posts, as well as his and others!
Glad Geoff James let me know because after contacting Google about the incident the post has been taken down. I recommend that you check out Geoff's blog too, Confessions of an Aging Motorcyclist. Back to my point, Geoff knew of a couple of lady riders and I asked if he'd pass along my information to them. He did and Joanne responded!
I'm thrilled to introduce to you Joanne, a.k.a. Jo from Christchurch, New Zealand. She recently emigrated there from Kenilworth which is a little town in Warwickshire, England. She's doesn't blog yet, but says she's coming around to the idea! (Jo – do let us know when that happens!)
Profile of a Female Motorcyclist Meet Joanne
How long have you been riding a motorcycle?
Just had to check that one – my license says I passed my test in 2002 but I was riding a 125cc bike on a provisional license for about a year before that.
That would have made me 33 years old when I first threw my leg over a saddle. Hey, just realized! Missed my ten year anniversary!
How did you learn to ride?
This is a familiar story – I was a pillion passenger on the back of my husband's bike. I'd never even considered riding a bike earlier in my youth, despite the fact that my older sister had a short lived but eventful experience with her own bike.
Maybe her not so pleasant experience put me off? Anyway, hubbie is a lifelong biker and I was an occasional passenger until he bought a bike that would tolerate carrying a pillion in comfort for a few hundred miles (that was a 1200cc Suzuki Bandit).
After many journeys and many hundreds of miles on that marvelous machine I realized that firstly, I had a numb backside and a terrible view of the back of his helmet and secondly, he wasn't doing anything that I couldn't.
I've since learned that actually he can do stuff that I can't but I was ignorant of that at the time! In the UK, you had to do something called a CBT (Compulsory Basic Training) before you could get a provisional bike license.
That was basically a bit of theory followed by basic maneuvers in a car park on a low power machine and then a brief road test. Anyway, the very first minute I revved that little 125 and let out the clutch I knew I'd found my vocation!
What was your first motorcycle?
I bought a Suzuki GS125cc with an electric starter because I couldn't always kick start my husband's leaky old Honda CG125. That was what I learnt my trade on and meanwhile I was taking lessons on the riding school's 650cc bike which I think was a Honda NTV.
As learners we were only allowed out on a 'big' bike whilst being supervised by an instructor in radio contact. Imagine the disappointment of having to ride home on the 125 after a lesson! After I passed my test, I bought a Honda CB500, a parallel twin engine, beautiful red paint work and the only machine I have ever really loved!
How many motorcycles have you owned?
Not many. When I realized I kept hitting the rev limiter, the CB500 was followed by a Honda CBR600F, and that was followed by a Honda VFR800 when I realized I wanted a bit more 'grunt'. Now I'm in New Zealand and looking for the next bike – might not be a Honda this time!
Why did you want to ride a motorcycle?
Initially – speed! But after that there was the thrill of being in control of a machine that transports you with ease past all the traffic. That wonderful feeling of having tackled a series of corners or overtakes with poise and control is what I ride for now.
There's also the joy of having a connection with the landscape you're riding through. You can feel the wind, the sun, the rain, smell the countryside, see over the hedgerows into the fields and watch the horizon unfold all around you. All of that is difficult from inside a tin box!
Tell us about your riding.
It's been mostly a leisure pursuit for me although I did commute in the early days when I needed as much practice as I could get. I joined the Institute of Advanced Motorists when I bought the CBR600 because I realised I needed to up my skill level.
I passed their advanced test in 2004 and became a volunteer observer with the local IAM group, helping other riders achieve advanced standard. It gave me a great incentive to get out on my bike in all weathers. I was the only female observer at that club until 2011. My husband and I took a few holidays on our bikes and I have also been on a track day, but that wasn't really my thing.
What advice do you have for women who ride or want to ride a motorcycle?
You'll love it, just do it! Do get some good tuition from a reputable organization or instructor. In terms of some useful specific advice:
Think before you park – don't ride into a position where you'll have trouble getting out again, bikes don't have a reverse gear!
Everybody, absolutely everybody, has dropped a bike sometime – don't worry, get crash bungs!
Practice slow riding and emergency stops in a safe environment, preferably with someone who can give you some pointers about how to do it correctly.
What is the longest trip that you've taken on your motorcycle? 
I regularly did 300 or 400 mile trips on ride outs in the UK. My husband and I also took the bikes to France a few times and our furthest trip was from Leamington Spa in the UK to Annecy in the French Alps, about 800 miles over a few of days. I have to say I don't have an iron butt!
Do you belong to any motorcycle groups? Off or online?
I was a member of the Coventry and Warwickshire Advanced Motorcyclists group which was a subgroup of the Institute of Advanced Motorists. We provided coaching for motorcyclists wishing to improve their skills and arranged social rides and social nights for bikers of all abilities. It was very rewarding to be able to impart some wee nuggets of information and instantly see a huge difference in a rider's skill and safety.
Do you have a favorite riding story?
I suppose the most 'educational' episode was the one when I fell off whilst on an advanced level social ride. We try not to make a habit of it but now and again it does happen! On this fine, sunny day we were riding through some tiny, rural lanes that were really only ever used by farmers. Most of them had grass growing in the middle of the tarmacadam. This winding road dipped and went under a bridge and to get a better view ahead I moved from one side of the road to the other.
Unfortunately, there was a damp microenvironment under the bridge where mud had gathered and remained wet and slippery when the road elsewhere was dry. Although I had noted the dry line on either side of the road where the traffic had passed, for some stupid reason I still thought I should change my position for better visibility.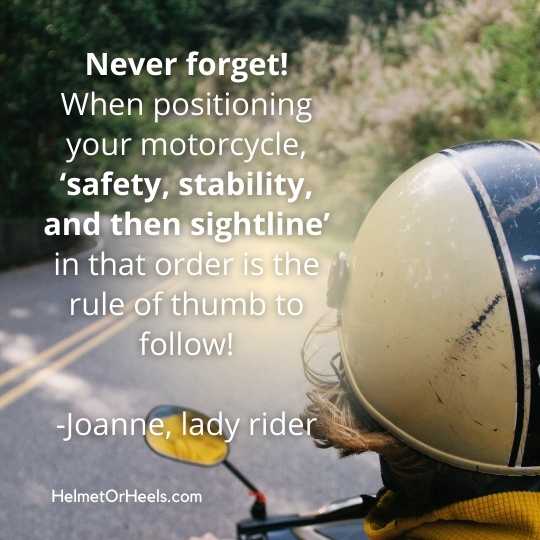 Well, the front wheel hit the mud and slid, then the back wheel hit and did the same and I watched in slow motion from midair as the bike went down the road on its side. We were going pretty slowly down these little lanes so I was probably doing no more than 30mph. I was thrown onto the verge but not without bruising my knee on the handlebars on the way and cracking a rib on landing.
I can honestly say that my first thought as I watched the bike slide along for quite a few yards was, 'This is going to be expensive to repair!' Luckily the guy behind me was a trials rider and, although he was on a big Pan-European that day, his superior skills meant that he managed to avoid making things worse by running over me or colliding with my bike.
The last thing I heard over my helmet radio before the power lead was pulled out of the socket was, 'Man down, man down!' Oblivious to the panic that my husband would be feeling when he came up from behind and saw my bike on its side, I got to my feet and went to apologize to the run leader for spoiling his ride out.
When the dust had settled, we realized that my gear lever was broken but any other damage was cosmetic. The rest of the group continued their ride whilst my husband rode my bike home using second gear only.
That meant I had to ride his bike, an 1100cc Honda Blackbird, for the first time and in shock after losing control of my own bike. Bless him for trusting me then and continuing to trust me now! We made it home without further incident and I used that event as a teaching aid many times afterwards.
Never forget! When positioning your motorcycle, 'safety, stability, and then sightline' in that order is the rule of thumb to follow!
What do you do when you're not riding your motorcycle? 
I earn a living as a scientist; I manage a biological containment facility and coordinate research projects in microbiology. In my leisure time I like to travel (not always by bike!), read, spend time outdoors hill walking or gardening and I also spend a lot of time on the internet!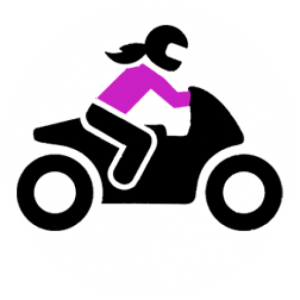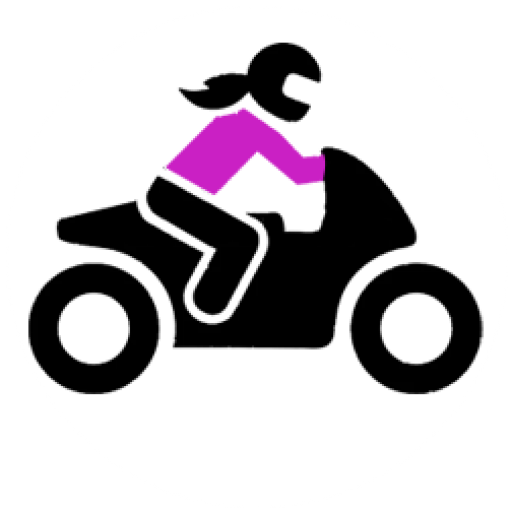 Thank you for stopping by Helmet or Heels female motorcycle community and reading Profile of a Female Motorcyclist Meet Joanne! I am always looking for more stories like your adventure into riding. Your experience, knowledge, and insight will encourage women in their motorcycling journey! Fill out the contact form and let's connect!
Catch us on Instagram @helmetorheels, Pinterest @helmetorheels or Twitter @helmetorheels – we are just getting started!