The next Profile of a Female Motorcyclist Meet Karen is from Battersea, Ontario. She had stopped by the blog and left a comment. So I asked if she would like to share her story and Karen said yes! Follow her adventures on her blog Motorcycle Touring – Riding on my V Star as well as Twitter @VStarLady!
Profile of a Female Motorcyclist Meet Karen
How long have you been riding a motorcycle?
I'm a "born again" rider. I first got my M license in the early 80s but traded the first bike in for a rocking chair and babies. I started riding again about seven or eight years ago, when the babies were all grown up.
How did you learn to ride?
I took the "Gearing Up" (that's what it's called now, not sure if it had the same name back in the 80's) rider training program. I took it the first time I started to ride and when I started riding again.
What was your first motorcycle?
My first bike was a 175 Honda. You couldn't pay me to ride that bike today (in the condition it was) – but I was young and foolish. I used to tour around town with a fellow who rode a Goldwing, we were like Mutt and Geoff. My Honda stalled every time I used the signal light.
How many have you owned?
I'm on bike four and she's my dream – she's my Star and it was love at first sight.
Why did you want to ride a motorcycle?
I really don't remember having a real ambition to ride a motorcycle, but I do remember (way back when) a conversation I had with a male rider, I said, "I could ride a bike," and he said "You could not!"
Never tell a gal she can't do something … He never did get a license and I was the only one in my "rider test" group to pass (I was the only female as well!)
Tell us about your riding.
Sometimes I ride to work but believe in all the gear, all the time [ATGATT] and my commute to work is just too short. I'd rather gear up and head out. Most of the time I wander the roads until I think I have just enough time to get home before dark, that is until July.
As soon as my classroom is put to bed for the summer I pack the bike and head out on an adventure. Last year I did a 28 day trip. I could have kept on going, but sometimes you have to come home for life and your Mom's birthday. My Mom will be 95 this August – she follows my blog when I'm touring.
What advice do you have for women who ride or want to ride a motorcycle?
I've been reading these posts and it's hard to add anything that hasn't been said already. I totally agree, don't let anyone pressure you into riding a bike you aren't comfortable on.
Choose the bike that fits you. I've had so many people tell me what I should be riding and how many cc's I should have.
Take rider training (I've done it twice and taken advanced skills training as well.) Wear all the gear, all the time (lime green is the new sexy!)
Ride within your skill level, in group rides don't be pressured to ride at a speed or on a road you're not comfortable with. (Most accidents happen when riders lose control of their bikes in curves.)
Your most important asset is under your helmet; protect it with a helmet and ride defensively – ride smart – you'll improve your odds exponentially.
And I have to add – wear ear plugs; hearing loss from noise damage (even the wind noise) is forever!
If you're like me, make sure you know a good mechanic, it's important to keep your bike in good working order. (There's always somebody along the way to recommend a good place to go when you're travelling.
If you travel it's comforting to have a membership with CAA or AAA at a level that will provide motorcycle roadside assistance too.)
P.S. Having a GPS right on the handle bars has given me wings – plus, 'Garmin' Dan, with all his nattering about recalculating, keeps me company on the way.
What is the longest trip that you've taken on your motorcycle?
I've been on a few since I started riding again – around Lake Superior (on a 250), to Yellowstone and Jackson Hole, to New Orleans around the Gulf and up the Atlantic but the longest may have been last year.
In 2011 I did a solo cross continent loop. I left Kingston and rode to Manchester Beach California then down to Petaluma and from there headed up to Portland Oregon then east to Portland Maine. Of course I had to ride back home to Ontario. It was about 13,582 kilometers (not counting U turns and where the heck am I nows?)
That's riding only about 300 – 325 miles a day. I don't like to push it (unless I have to). I like to take my time and enjoy the ride, I take lots of pictures along the way and stop early enough (earlier on the real hot days) to set up camp and take a walk around, last year I spent a couple days at the beach and a day discovering San Francisco, so I'm not always pounding pavement.
Do you belong to any motorcycle groups?
Not really – group riding isn't my favorite though I keep in touch with the MCC (Motorcyclists Confederation of Canada) on line.
Do you have a favorite riding story?
I've a few stories … I don't know. Do you want an animal story, a people story, a great place to ride story or an I can't believe I did something so stupid story? (I have stories in all four categories.)
But truly, the most memorable stories revolve around the people that I've met along the way, people just love to come up and talk to you when you ride in on your bike.
What do you do when you're not riding?
I am a kindergarten teacher and I design and paint sets for a teacher's theatre company.
When I have time (at home), I paint, blog, take photos and I walk …. I walk a lot. I love walking.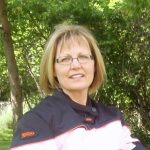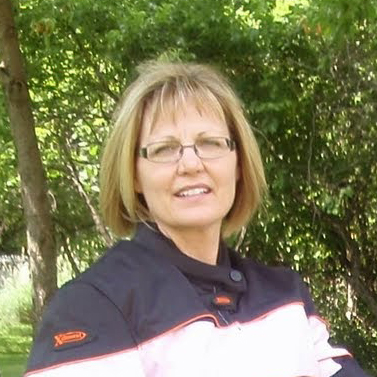 Pam here, and I'm so delighted you came by today to read Profile of a Female Motorcyclist Meet Karen. I started this blog to chronicle my introduction to riding a motorcycle, but as I went along, I met so many other female riders who had wonderful tales to share that I started sharing theirs as well.
I joined Twitter (@helmetorheels) at the same time I launched this blog and started networking with other female motorcycle riders. I met other rookies to lifelong seasoned riders who were willing to provide encouragement, advice, and their relationship with me, which is why these women were so motivating to me. Wherever I was on my journey, I was welcomed. What a wonderful community I discovered online to fuel my passion for riding.
Follow us on Pinterest @helmetorheels and Instagram @helmetorheels because we are just getting started!