I found my next guest through Eve (May 14, 2012 profile). Profile of a Female Motorcyclist Meet Kari a.k.a. Bluekat is from Oregon, Eve sent me a link to Kari's blog, bluekat's Journeys because she is also a female motorcyclist! I am thankful to Eve for the "introduction" and to Kari for saying yes!
Profile of a Female Motorcyclist Meet Kari
How long have you been riding a motorcycle?
About 4 years, since 2008
How did you learn to ride?
I took Basic Rider Training through Team Oregon.
What was your first motorcycle?
91 Vulcan 500
How many have you owned?
Three. The Vulcan, a Suzuki C50, and my current Ninja 650R.
Why did you want to ride a motorcycle?
It came out of the blue (no one expected it!) My husband returned to riding after a 20+ year hiatus. For some wild reason I decided to learn to ride. I was as surprised as anyone by this revelation.
Tell us about your riding. 
Mostly commuting. Sometimes it seems like it's the only time I can find for riding. Great way to relax after a day at work. We also do a little touring, but usually only once a year.
What advice do you have for women who ride or want to ride a motorcycle?
Not much advice really, but if you want to ride. Don't let anyone convince you that you can't. I highly recommend taking a class from professionals.
What is the longest trip that you've taken on your cycle?
Last year's tour from Oregon to Glacier National Park. I think it was a little over 2,000 miles altogether. Going to the Sun Highway opened on the last day we were there, and we had a fantastic ride over the pass.
Do you belong to any motorcycle groups?
We are a part of an informal moto-blogger group. Some of us are local, but others are across theU.S.and even around the world. We've met and ridden with a few riders/bloggers in our area.
In fact our Glacier Tour last year was with some other fellow moto-bloggers who invited us along. Most of my riding is solo, but sometimes with friends and family on occasion.
Do you have a favorite riding story?
I can't think of a favorite at the moment. There are so many good memories: the first time learning to ride, the first get together with fellow moto-bloggers, first trip to the Redwoods, and our trip last year to Glacier. They're all favorites.
What do you do when you're not riding?
If I'm not riding motorcycles, you can probably find me on a bicycle, either on the road or on the trails. Guess I just can't stay away from two wheels.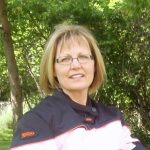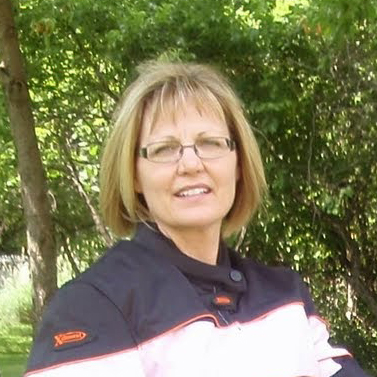 Thank you for stopping by to read Profile of a Female Motorcyclist Meet Kari! Ladies, whether you are looking to start riding solo, a casual motorcyclist, a seasoned rider, or enjoying riding pillion you are all welcome to join in the Helmet or Heels community. I would love to share your story of motorcycling no matter where you are on the journey. It will inspire other women along the way.
Catch us on Instagram @helmetorheels, Pinterest @helmetorheels or Twitter @helmetorheels – we are just getting started!