Like the many facets of a diamond create the brilliance of a gem so the many profiles of female motorcyclists create a beautiful reflection of us – lady riders! In Profile of a Female Motorcyclist Meet Melissa I'd like to introduce another fabulous female motorcyclist, Melissa or as she is known on Twitter @SnowKitten!
Melissa hails from Denver, Colorado and is also a photographer. Check out Blue Kitten Photography for some incredible images!
Profile of a Female Motorcyclist Meet Melissa
How long have you been riding a motorcycle? I've spent my whole life around motorcycles. My dad has been riding since he was a teenager so I definitely grew up on the back of his bike. When I was nine, my stepdad taught me out to ride off road.
I think that's truly the point I was hooked. While getting a street bike was always my plan, it took me a lot longer than I intended and I had my motorcycle license for several years before I was finally able to get a bike. I've been riding a street bike since 2007.
How did you learn to ride? I started off riding 3 and 4 wheelers, but thankfully my stepdad felt I would do better with two wheels and was patient enough to teach me how to ride.
What was your first motorcycle? A Honda XR125
How many have you owned? Two
Why did you want to ride a motorcycle? It's exciting. It's a sense of freedom. Very few things compare to riding through the mountains on a motorcycle. And I definitely can't complain about the gas mileage. I'd rather get 55 mpg on a motorcycle than drive a Smart Car.
Tell us about your riding. I ride every chance I get. Monday through Friday, it's my primary transportation for commuting. As long as it's clear roads and at least 35′, I try to use it instead of my SUV.
I also try and get as many pleasure rides in as I possibly can. Luckily, I live near the foothills, so there is plenty of scenic riding a short ride away.
What advice do you have for women who ride or want to ride a motorcycle? Do it! It's a lot of fun and you'll be glad you did. But no matter what, if you're wanting to ride street, take a class. It's worth the money and your time. You will learn much more than just how to ride a bike. Don't let anyone try to teach you. While they can teach you how to ride, there is so much more to riding a motorcycle than just keeping the bike upright and going.
The second piece of advice I would have is don't let anyone talk you into a bike you're not ready for or not interested in. Some bikes are often labeled as beginner bikes or chick bikes, but if that's what feels comfortable and that's what you like, go for it.
If you're new to riding, it's better to start small and work up to bigger bikes than to start with something that's too big for you or makes you uncomfortable and therefore makes you not want to ride.
What is the longest trip that you've taken on your cycle? Unfortunately, I don't have a cool answer for this one. I've put a lot of miles overall on my bike, but it's still relatively close to home. The farthest I've ridden one way is to Estes Park, Colorado. So about 75 miles. My dad and I have gone on some around Colorado rides though that kills a tank of gas close to 200 miles.
Do you belong to any motorcycle groups? Nope
Do you have a favorite riding story? Unfortunately, I don't. More proof I need to take some bigger jaunts on the bike with friends.
What do you do when you're not riding? I love spending time with my husband and our three dogs. I study and teach tae kwon do, I'm a complete shutterbug and love taking photos.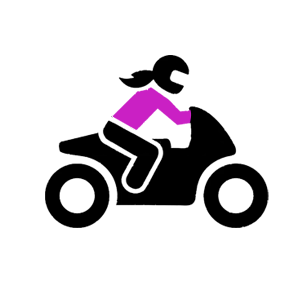 Thank you for stopping and reading Profile of a Female Motorcyclist Meet Melissa! I am always looking for more stories like your adventure into riding. Your experience, knowledge, and insight will encourage women in their motorcycling journey! Fill out the contact form and let's connect!
Catch us on Instagram @helmetorheels, Pinterest @helmetorheels or Twitter @helmetorheels – we are just getting started!