Crossing back over to Canada today, Cambridge, Ontario to be exact for our Profile of a Female Motorcyclist Meet MJ! MJ got her nickname because that is how a little girl described her when she knew too many Jenn's! Love it!
I met MJ on Twitter @Jenn_Victor and was thrilled when she agreed to join in with her profile of a female motorcyclist! Let's support and encourage her on her new blog, Jennifer Victor Photograhy!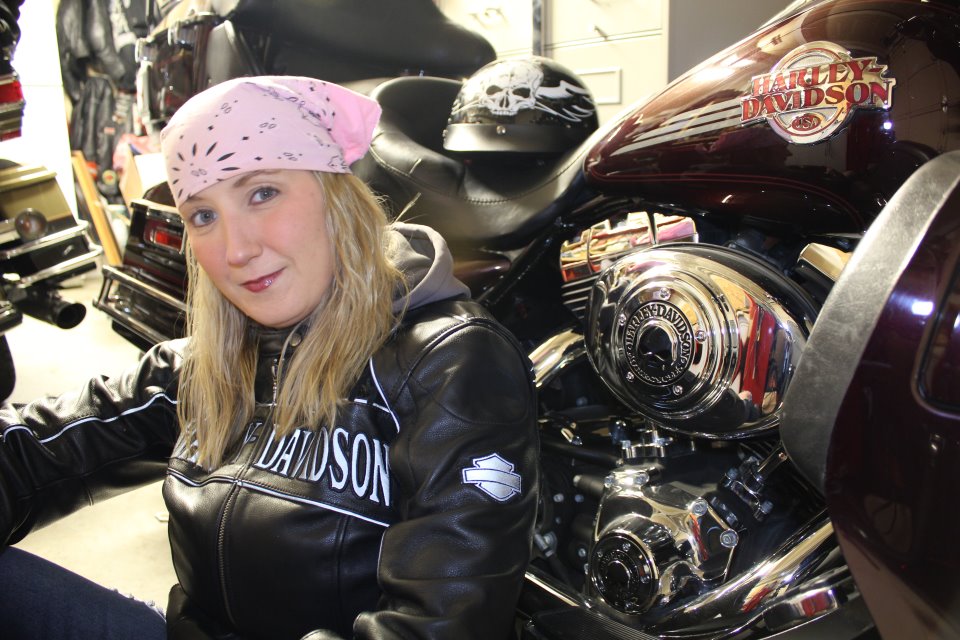 Profile of a Female Motorcyclist Meet MJ
How long have you been riding a motorcycle? 
Eight years
How did you learn to ride? 
I took a training course when I had never even been on a motorcycle.
What was your first motorcycle? 
1980 Yamaha XJ650
How many have you owned? 
Four … currently own a 2006 Harley Davidson Ultra
Why did you want to ride a motorcycle? 
I had always wanted to ride, but never had the time or lifestyle … when I found myself divorced and ready for some real independence at 28, I decided it would be my 30th birthday present to my self a few months early. It's one of the best decisions I have ever made!!
Tell us about your riding.
All my riding is for pleasure/vacation and I'm known for going on long rides … 800-1000 kms (500-600 miles) in one day is a great day!!
What advice do you have for women who ride or want to ride a motorcycle? 
Go for it, don't let anyone talk you out of it and don't give up! For those already riding … never stop riding! 
I failed my first motorcycle test at the end of the course because I was too nervous. I went back a week later and passed without any issues. Then my first ride out on an actual motorcycle (instead of the dirt bikes used in the course), I panicked at a stop sign seeing all the traffic waiting behind me and took the left turn without any confidence and ending up jumping the curb and sliding down a ditch. 
I had a friend come and ride the bike home for me. He told me I needed to get back on the bike, which I knew was true. I told him that I would, it just wasn't going to be right that moment. I did get back on the bike about a week later. 
I took baby-steps in my riding and found others to ride with who were willing to be very patient and also help me. After my first season, there was no stopping me and I couldn't believe how much my riding improved and how far I have come from that moment. I'm glad that I never gave up!
What is the longest trip that you've taken on your cycle? 
In 2009 I was able to do a 16-day, 10,000 kms (6,200 miles) trip with some friends. We headed out to Sturgis for the rally and then headed further West and then South. Managed to also include Rocky Mountain State Park and the Tail of the Dragon in our trip and covered 24 states in our travels.
My longest day trip would be coming home from Nashville in one day 15 hours and 1,200 kms (750 miles).
Do you belong to any motorcycle groups?
Yes, Canadian Motorcycle Cruises.
Do you have a favorite riding story?
Last June I went to Georgia on the back of my boyfriend's bike to pick up my Ultra and ride it home. Less than 24 hours after picking up the bike we were riding through the Tail of the Dragon. 
When we pulled into the US129 Harley shop at the end of our run, it was priceless to see the looks on the faces of the guys standing in the lot as they saw a woman on an Ultra and my boyfriend telling them I just picked it up less than 24 hours ago and already rode the Dragon!! Some stereotypes never change and I love defying them!
What do you do when you're not riding? 
I'm currently attending school for photography.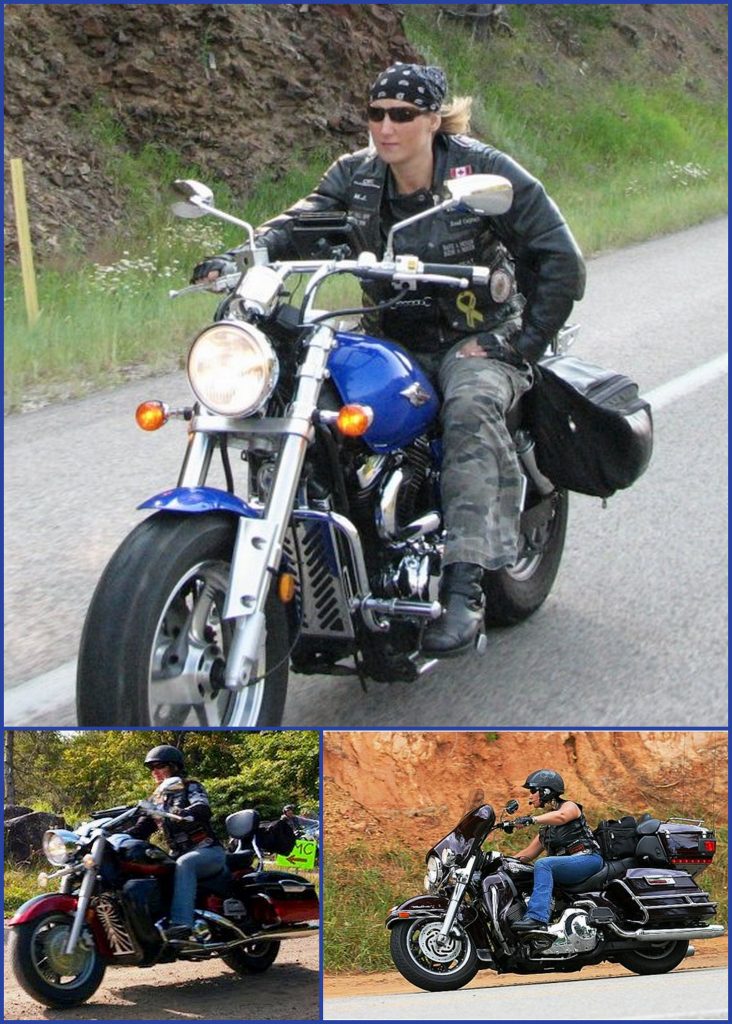 Thank you for stopping by and reading Profile of a Female Motorcyclist Meet MJ! Ladies, whether you are looking to start riding solo, a casual motorcyclist, a seasoned rider, or enjoying riding pillion you are all welcome to join in the Helmet or Heels community. I would love to share your story of motorcycling no matter where you are on the journey. It will inspire other women along the way.
Catch us on Instagram @helmetorheels, Pinterest @helmetorheels or Twitter @helmetorheels – we are just getting started!