Ladies, I'm still taking names for profiles! If you're interested in joining in with your own tale similar to Profile of a Female Motorcyclist Meet Scooterchick, please leave me a comment or fill out the contact form. 
Reading Bobskoot's blog, Riding the Wet Coast, I discovered my next guest. She hails from British Columbia, Canada. She and her husband Scootard had met up with Bobskoot. She recently launched a blog, Adventures of Scooterchick, which Bobskoot highlighted in his post. I emailed her as a result, and she kindly replied with her profile!
Profile of a Female Motorcyclist Meet Scooterchick
How long have you been riding a scooter?
Three years
How did you learn to ride?
Self taught with the help of my patient husband "Scootard".
What was your first scooter?
Yamaha BWS 50cc
How many have you owned?
Four including the one I currently own, a 250cc Bet and Win Scooter.
Why did you want to ride a scooter?
Don't want to be bothered with learning the gears, clutch, etc on a motorcycle. Just twist and go!
Tell us about your riding.
Just for pleasure with my husband.
What advice do you have for women who ride or want to ride?
Be patient with yourself when learning. Never get a bike because "someone" thinks you can handle it or it looks good. Do research, shop around, ask questions, wait a week or so and then make a decision.
Impulse buying leads regrettable purchases, quick sales, a loss of money, and a bad taste left in your mouth from the whole experience. Get the bike that works for "you".
What is the longest trip that you've taken on your scooter?
Rode from British Columbia, Canada to Portland, Oregon
Do you belong to any motorcycle/scooter groups? Off or online?
Yes
Do you have a favorite riding story?
Check it out on AdvRider.
What do you do when you're not riding?
Spending time overseeing a ministry, Global Impact Ministries Centers and spending time with my husband, "Scootard". We also own a business, Timely Toner.
It is always great to learn more about other lady riders like in Profile of a Female Motorcyclist Meet Scooterchick!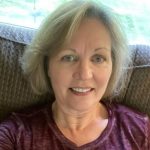 Pam here, and I'm so delighted you came by today. I started this blog to chronicle my introduction to riding a motorcycle, but as I went along, I met so many other female riders who had wonderful tales to share that I started sharing theirs as well.
I joined Twitter (@helmetorheels) at the same time I launched this blog and started networking with other female motorcycle riders. I met other rookies to lifelong seasoned riders who were willing to provide encouragement, advice, and their relationship with me, which is why these women were so motivating to me. Wherever I was on my journey, I was welcomed. What a wonderful community I discovered online to fuel my passion for riding.
Follow us on Pinterest @helmetorheels and Instagram @helmetorheels because we are just getting started!