Next up – Profile of a Female Motorcyclist Meet Shirley (nickname: Roadrunner) is from Aiken, SC. As I continue this series I'm so appreciative of all the women that have taken the time to answer the questions and submit a picture or two.
Much wisdom and many life lessons are being written. I'm also being challenged and feeling the desire to become more than a hobby rider. Thank you friends!
Profile of a Female Motorcyclist Meet Shirley
How long have you been riding a motorcycle?
5 years
How did you learn to ride?
I learned the basics by riding at low speeds around my neighborhood. Then I took a Motorcycle Safety class. The safety class was a big confidence booster for me because there were others around with the same skill level as me.
I highly recommend to anyone learning to ride and even seasoned riders – take the safety class.  You'll learn a lot.
What was your first motorcycle?
I started on a Honda Rebel 250. I only had that bike for 6 months before I upgraded.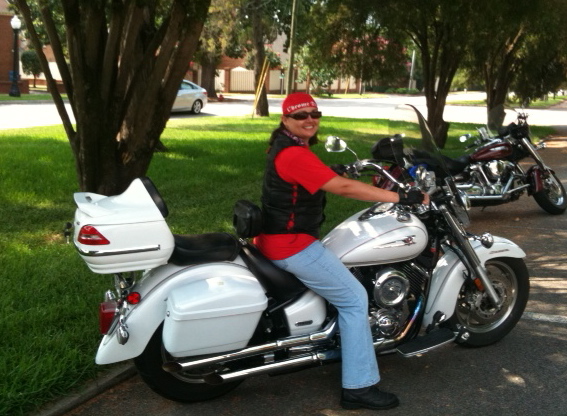 How many have you owned?
I've owned 3 motorcycles: Honda Rebel 250, Honda Shadow 600, Honda Spirit 1100
Why did you want to ride a motorcycle?
I rode by a scooter place one day.  I was intrigued … it looked fun so I took a test drive. I had so much fun that I decided I wanted a scooter.
I decided to sleep on the purchase … and after more thought I decided a motorcycle would be better even though I'd have to learn how to shift.
Tell us about your riding.
Mostly for pleasure, although Friday's are casual at our workplace so sometimes I ride my motorcycle into work on Friday's.
What advice do you have for women who ride or want to ride a motorcycle?
Before buying a bike, try out different models and notice how low/high they sit from the ground. You want to be as flat-footed as possible. Also, take the safety course.
What is the longest trip that you've taken on your motorcycle?
The longest trip was from Augusta, GA to Maggie Valley, NC. I had been riding for a couple years and our riding group (Chrome Divas) took a weekend trip to the mountains. I think the total mileage for that weekend was 1,000.
Do you belong to any motorcycle groups?
For 3 years I rode with a great group of ladies, the Columbia, SC chapter of the Chrome Divas.
Do you have a favorite riding story?
Yes, I rode the Tail of the Dragon by accident (a road in NC/TN that boasts 311 curves in 11 miles). I had programmed my GPS to purposefully avoid the Tail of the Dragon, because I felt I wasn't ready for the challenge since I had only been riding about 2 years.
I wasn't paying attention to my GPS though. Before I realized it I was 2 miles into the Tail of the Dragon … too late to turn around. I had to keep going and it was so much fun after I calmed down. I ended up riding it two more times on that trip.
What do you do when you're not riding?
Polish the chrome of course! 🙂  I'm an avid reader, I love to garden.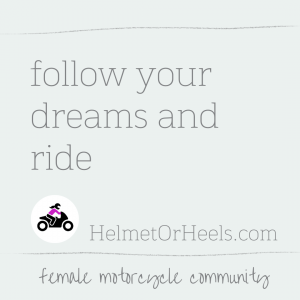 Thank you for stopping by to read Profile of a Female Motorcyclist Meet Shirley! I am always looking for more stories like your adventure into riding. Your experience, knowledge, and insight will encourage women in their motorcycling journey! Fill out the contact form and let's connect!
Catch us on Instagram @helmetorheels, Pinterest @helmetorheels or Twitter @helmetorheels – we are just getting started!