I believe this is a vintage Honda 1971 CB 350 Cafe Racer. Swooning over this bad boy! This is a beautiful motorcycle!

Vintage Honda 1971 CB 350 Cafe Racer.
These pictures are posted on Raccia Motorcycles web site, but it is under construction. I'll be checking back to see what else they have! I also found Michael LaFountain over on Instagram. Anyone familiar with Raccia Motorcycles?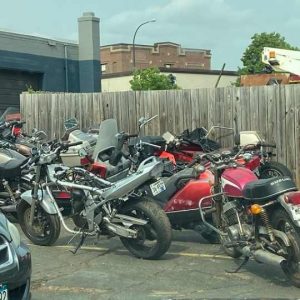 I'd love to have a vintage café racer! There are several other vintage motorcycles that I would like to own. Tommy, our motorcycle mechanic, has a large collection of older motorcycles in various states of repair. He tinkers with them or uses them as spare parts. Here's a photo of part of his parking lot!
When you visit his repair shop, you never know what you'll find. It's almost like a museum with the motorcycles he services and those he just tinkers on. The guy knows motorcycles old and new!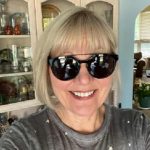 My name is Pam and I am so glad you stopped by today! I started this blog to document my journey into motorcycling and along the way I met so many other lady riders with inspiring stories to tell I began to share theirs as well.
About the same time I started this blog I joined Twitter (@helmetorheels) and began to meet other female motorcycle riders. These ladies were so inspiring to me because I found other newbies like me to life-long experienced riders who were willing to share encouragement, tips, and their friendship. I was welcomed where I was on my journey. What an incredible community I found online to fuel my desire to ride. 
Catch us on Instagram @helmetorheels and Pinterest @helmetorheels – we are just getting started!