Kerry McLean is one very talented man! I'd sure like to give this a try! Closed course for sure!
Would you ride a Monocycle?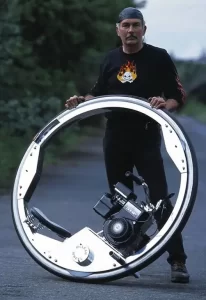 I'm not sure if the monocycle is roadworthy. After watching the video, it appears that it is difficult to see the road ahead of you. This creates a slew of issues. The monocycle appears to drift within the lane, but this could be due to the pilot rather than the machine. It appears difficult to see when it is out in traffic among other vehicles. Last but not least, I didn't see any brake lights or turn signals. Is it because the concept is still too new?
Creativity is off the charts to come up with this concept! Though, in my opinion still a little early to be road ready. If you would like more history of the Monocycle check out McLean's Story!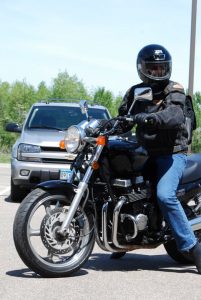 Thank you for checking out, Would you ride a Monocycle? Ladies, whether you are looking to start riding solo, a casual motorcyclist, a seasoned rider, or enjoying riding pillion you are all welcome to join in the Helmet or Heels community.
I would love to share your story of motorcycling no matter where you are on the journey. It will inspire other women along the way.
Helmet or Heels female motorcycle community is reader-supported. When you buy through links on this site, I may earn a commission at no cost to you. I thank you for your support to help grow this female motorcycle community and inspire other women to ride!
Catch us on Instagram @helmetorheels, Pinterest @helmetorheels or Twitter @helmetorheels – we are just getting started!