There are so many new friends that I'm making because of this journey of mine. I like it. I'm very thankful for all the advice I'm getting on all things motorcycle from either comments here, through Twitter, or other motorcyclists. It is fantastic! Cyber hugs for all!
Are you becoming the best you can be?
I have 28 days until my class!! Awk! I am so excited about taking this class and learning how to ride a motorcycle. The weather in Minnesota has definitely turned mild and with it has brought out a ton of riders on their cycles.
And that only adds to my impatience. I've decided that to keep my mind off of the count down to my class I'd prepare myself physically by getting back into regular exercise.
One of the most consistent comments I've received as a woman wanting to ride is how challenging holding up, balancing. or handling a bike can be. So, I've started back into weight training along, with my cardio work outs.
Now don't get me wrong, I'm not trying to be Mrs. Adonis, but there is room for increasing my strength whether or not I'd be riding in the future. I think I may end being the most prepared rider ever!!
Please keep leaving your comments and advice for me I certainly appreciate your input!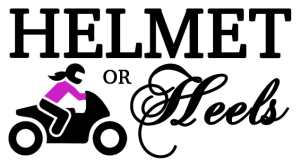 Ladies, whether you are looking to start riding solo, a casual motorcyclist, a seasoned rider, or enjoying riding pillion you are all welcome to join in the Helmet or Heels community. I would love to share your story of motorcycling no matter where you are on the journey. It will inspire other women along the way.
Catch us on Instagram @helmetorheels, Pinterest @helmetorheels or Twitter @helmetorheels – we are just getting started!