My desire of becoming healthier through diet (not starving myself or following fad diets) and exercise can bring undue expectations for results. As I've aged I realize I cannot do what I did when I was twenty, at least not right now, but there are things I can do at fifty-something (sigh).
My three week powerhouse workouts that dropped weight and re-shaped things all while not changing a thing with my diet just don't work anymore — age does seem to have messed with my metabolism. Talk about wanting to turn back time — now I have Cher singing in my head — and with her money I could surgically turn back time too!
Great Expectations
Back to expectations … I've started down this healthy road many times over the last few years but got stuck when things didn't change after putting in a good four to six week effort. I hope that will change for me because of what I read today in the February 2013 issue of Real Simple:
"It takes six months to get into shape and two weeks to get out of shape. Once you know this you can stop being angry about other things in life and only be angry about this." Rita Rudner, Naked Beneath my Clothes "THE WORKOUT WHISPERER"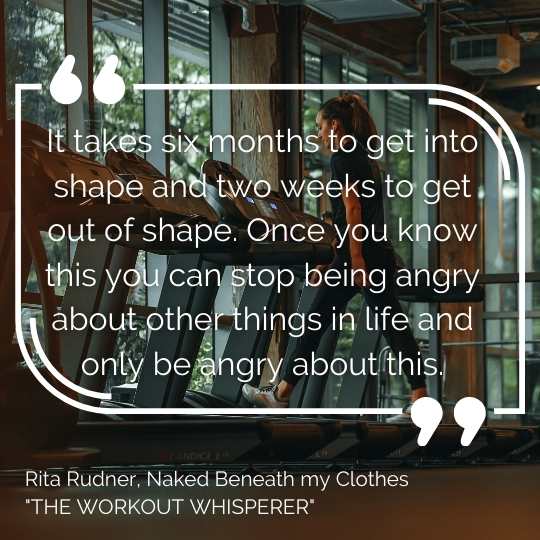 Hum, I think someone needs to reevaluate her expectations. Everyday I need to serve myself up a huge portion of consistency and patience! I may need to be reminded of this next week, but I'm hoping this message sticks to become my great expectation that will result in lifelong changes.
What about you? Ever wish you could turn back time and get a do-over?

P.S. I am so glad you stopped by today! I started this blog to document my journey into motorcycling and along the way I met so many other lady riders with inspiring stories to tell I began to share theirs as well.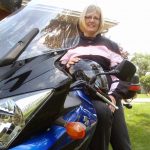 About the same time I started this blog I joined Twitter (@helmetorheels) and began to meet other female motorcycle riders. These ladies were so inspiring to me because I found other newbies like me to life-long experienced riders who were willing to share encouragement, tips, and their friendship. I was welcomed where I was on my journey. What an incredible community I found online to fuel my desire to ride.
Catch us on Instagram @helmetorheels and Pinterest @helmetorheels – we are just getting started!