This vaycay visiting my grandson in Atlanta just keeps getting better and better! Hubby and I were able to sneak away tonight for dinner. I Met Lori a.k.a. BeemerGirl! It wasn't just any dinner, we were meeting up with Lori a.k.a. BeemerGirl and her hubby!
We met at the 57th Fighter Group Restaurant. A very tasty choice. We were seated at a window table where we were able to watch planes take off and land while dining. The whole place was filled with cool World War II aviation décor.
I Met Lori a.k.a. BeemerGirl with our hubbies!
What a wonderful evening we had together. It was so fun getting to know Lori and her hubby. We traded stories about life, dogs, riding, and more. We entered the restaurant as cyber-friends and left as real life friends. What a fun connection to make all because of cyber space.
Have you ever met a "cyber-friend" like I met Lori a.k.a. BeemerGirl? How did you meet? Do share!
P.S. If you haven't already I recommend checking out Lori's blog, For Love of a Motorbike. And check out her Profile of a Female Motorcyclist Meet Lori!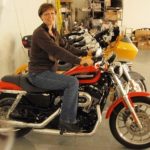 I am so glad you stopped by today! I started this blog to document my journey into motorcycling and along the way I met so many other lady riders with inspiring stories to tell I began to share theirs as well.
About the same time I started this blog I joined Twitter (@helmetorheels) and began to meet other female motorcycle riders. These ladies were so inspiring to me because I found other newbies like me to life-long experienced riders who were willing to share encouragement, tips, and their friendship. I was welcomed where I was on my journey. What an incredible community I found online to fuel my desire to ride.
Catch us on Instagram @helmetorheels and Pinterest @helmetorheels – we are just getting started!