I want to go on record that I don't cyber-stalk people unless I really want you to join in with your story and profile of a female motorcyclist. I am so grateful that my next guest – Profile of a Female Motorcyclist Meet Lori – didn't block me in her email account.
Lori stopped by the blog and left a comment which was my invitation to contact her – ladies this series isn't over until your story is posted – and she graciously said yes, but life was crazy.
I'm so happy she took time out of her busy schedule to share her story! Ladies and gentlemen, I'm pleased to introduce Lori, a.k.a. BeemerGirl or Steel Cupcake from Hotlanta, Georgia. Check out her motorcycle adventures on her blog For Love of a Motorbike.
Profile of a Female Motorcyclist Meet Lori
How long have you been riding a motorcycle? Started in early 2008
How did you learn to ride? Private lesson as introduction to a motorbike, turned into forays of street time riding with hubby running guard…trying to avoid traffic in the suburban sprawl near a huge metropolis. Then graduated to the Experienced Riders Course with MSF.
What was your first motorcycle? A Suzuki S50. A piece of junk that was 3 years old with less than 700 miles on it. But it taught me to be a better rider since I had so many mechanical issues to overcome while learning to ride.
The husband thought it was just me as I was learning. Then he had to ride it 120 miles one day and realized the issues the motorbike had.
How many have you owned? Three in all. The Suzuki first. And I currently own a BMW R1200R and BMW R1200GS.
Why did you want to ride a motorcycle? I wish I had started earlier…you remember…when you were day dreaming in high school of how fun it would be and how hot you would look.
I never gave it much serious thought until my brother planted the seed in 2007 after I mentioned riding a bicycle across the USA. Even then, it festered in my subconscious for a year until one day I suddenly decided I wanted to get my license.
Husband was happy when I mentioned it to him since that meant he was going to be able to get a motorcycle too.
Tell us about your riding. I would love to be able to commute on the bike. But my commute is19 miles of surface streets in 60 minutes. I sit at too many stoplights for too many cycles to make it enjoyable. Rather I focus on getting away on the weekends.
Even though I have a husband that rides, and we have such a synchronized riding rhythm, I think it is crucial that we ladies ride alone every so often. Gives you a different perspective and boosts that confidence.
Hubby and I have always gone on lots of weekend day rides. Our schedules are now allowing us to begin going on some overnights. But I have also taken quite a few long distance solo trips to visit the five corners of Georgia.
What advice do you have for women who ride or want to ride a motorcycle? We've all said it: Ride your own ride.
Take an MSF class to learn to ride. Don't let your husband, or his friends, teach you for your first lessons! It's easier to not get upset with an instructor, and too easy to get short with the husband.
As you start gaining experience, learning to ride on the road, have discussions with others in your riding party. Discuss "what if" scenarios. It gets you thinking of situations you might not have conceived of, and starts you theorizing of what you would do in that situation.
What is the longest trip that you've taken on your cycle? A 5 day ride to two GA corners at 1000 miles, or a 3 day ride covering a whirlwind 1300 miles, both solo.
Recently…husband and I just finished a 2 week excursion to Maine, 3800 miles, 14 days, finally meeting some blogging buddies, even rode up Mount Washington in New Hampshire. We did not want the vacation to end!
Do you belong to any motorcycle groups? Off or online? Belong to a local meetup group. But since I am not into large group rides, or riding to bars…we basically only meet up with them at coffee and chats mid-week. Otherwise, I have a plethora of blogging buddies to chat with, or live through vicariously.
Do you have a favorite riding story? I can't think of one!!! I just love riding and meeting people. I love the looks of pulling up someplace on the bike and people realizing I'm a girl. I love waving at kids staring at me from the back seats of cars. I love the change in air temperature when crossing a river. I love the smell of freshly cut grass (always ride lead through that ladies; otherwise it gets swirled up into your helmet.)
It isn't all play, though. We volunteer to be Motorcycle Marshals for the Multiple Sclerosis bike rides in Georgia. It gets us out helping a great cause, cheering people on, and trying to keep people safe. All while practicing our slow speed maneuvers. It is such a rewarding experience.
We are talking about taking it to the next level and getting certified as Race Marshals.
What do you do when you're not riding? Work to support my growing addiction. Daydream about the next vacation.
Thank you Lori for sharing your story – Profile of a Female Motorcyclist Meet Lori!
P.S. Lori and I were able to meet-up with our hubbies.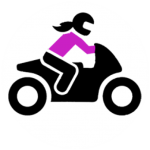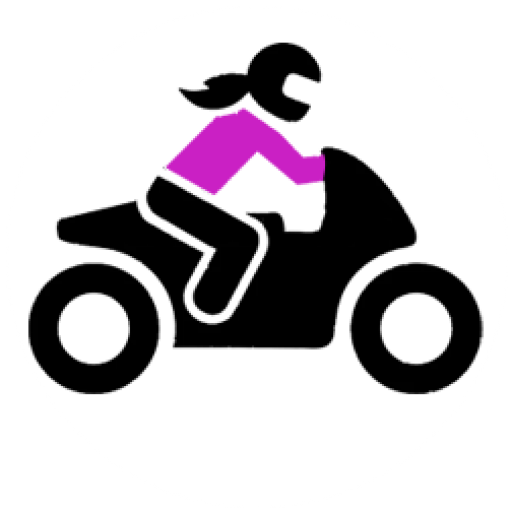 Ladies, whether you are looking to start riding solo, a casual motorcyclist, a seasoned rider, or enjoying riding pillion you are all welcome to join in the Helmet or Heels community. I would love to share your story of motorcycling no matter where you are on the journey. It will inspire other women along the way.
Catch us on Instagram @helmetorheels, Pinterest @helmetorheels or Twitter @helmetorheels – we are just getting started!