I finally got out on the bike again after a business trip to NYC and lots of rain this week! I've done mostly local neighborhood streets so I wanted to try traffic!
I'm outta here!
I did a few of the local streets to warm up and refresh my skills before taking it out over 40 mph. And then it happened … I took the cycle out on a county road up to 55 mph! What a thrill!
I don't have a windshield so the wind hitting the front of me was a bit of a surprise, but compensated by leaning into the wind.
Overall, I thought it went well for my initial journey out of the 'hood, riding about 50 miles or so solo. I did come back home to grab a backpack and ran up to the coop for a few things. And I stopped and filled up the tank in case my hubby wants to ride later today.
I was able to keep up with traffic, start and stop without killing it, and took turns rather well. I still have yet to go on a highway, but I'll get there with more practice and experience!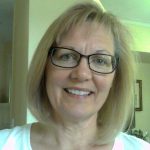 Pam here, and I'm so delighted you came by today. I started this blog to chronicle my introduction to riding a motorcycle, but as I went along, I met so many other female riders who had wonderful tales to share that I started sharing theirs as well.
I joined Twitter (@helmetorheels) at the same time I launched this blog and started networking with other female motorcycle riders. I met other rookies to lifelong seasoned riders who were willing to provide encouragement, advice, and their relationship with me, which is why these women were so motivating to me. Wherever I was on my journey, I was welcomed. What a wonderful community I discovered online to fuel my passion for riding.
Follow us on Pinterest @helmetorheels and Instagram @helmetorheels because we are just getting started!