I was recently sent an email from a New York City TV producer, Tom Pogue, looking for women who ride Harleys. After a few emails back and forth with Tom checking out the legitimacy of the request, I am putting the call out here on my blog. Unfortunately, I don't ride a Harley. Maybe he'll do a follow-up on Suzuki VStrom riders?! A girl can dream.
Looking for Women who Ride Harleys
Here's the original request:
My name is Tom Pogue, I'm a New York based television producer with the Emmy award winning production company V2 Films. We are currently looking for women who ride Harleys for some projects we already have in progress. I came across your blog and wanted to know if you or any riders you know are television-ready personalities, have great stories and ride Harleys? I noticed the collage you made and read that a few of the women who submitting their photo were Harley riders. If you or anyone you know is interested please give me a call or email me.
Thank you for your time,
Tom Pogue (pogue.jtom@gmail.com)
When asked to produce some credentials, he did. Click here
If you are interested here's a questionnaire to fill out and send to him:
Name (and nickname):
Age:
Occupation:
State:
Type of Harley:
How long have you been riding?
Tell us about how you got into riding and why?
What type of biker would you consider yourself, (recreational/social or lifestyle)?
How would others describe you?
Describe the crew of girls you ride with:
Do you ride with guys? How do male riders treat you?
Are there any biker types you don't get along with?
Where do you go and what do you do when you ride?
Are you treated differently by non-riders?
Have any crazy/funny stories?
Please Note: I am not connected with J. Tom Pogue or Vidiots and make no recommendation of either party.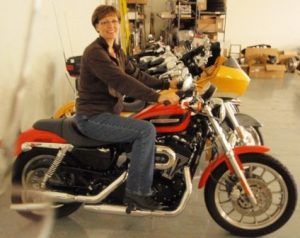 My name is Pam and I am so glad you stopped by today! I started this blog to document my journey into motorcycling and along the way I met so many other lady riders with inspiring stories to tell I began to share theirs as well.
About the same time I started this blog I joined Twitter (@helmetorheels) and began to meet other female motorcycle riders. These ladies were so inspiring to me because I found other newbies like me to life-long experienced riders who were willing to share encouragement, tips, and their friendship. I was welcomed where I was on my journey. What an incredible community I found online to fuel my desire to ride. 
Catch us on Instagram @helmetorheels and Pinterest @helmetorheels – we are just getting started!