I think my blog has become a place of true confessions for me! I asked Beth a.k.a. @bikerbethb publicly on Twitter to join in with her Profile of a Female Motorcyclist Meet Beth. How could she refuse? I did it for all of you … okay, another confession: I did it for me.
I LOVE reading about lady riders! They are so inspiring. The more I can post the more better! (Hope my former English teachers don't read this!) Enough about me. I am so pleased to introduce Beth from Mukwonago, Wisconsin (just outside of Milwaukee). Check out her LinkedIn profile too!
Profile of a Female Motorcyclist Meet Beth
How long have you been riding a motorcycle? I rode dirt bikes in my teens but didn't get my license until 2003. I bought my first bike that year.
How did you learn to ride? I took a motorcycle safety course. I also recently took an advanced riding course that helped improve my skills.
My bike is quite large and it can be easy to get into a situation where it is hard to control. This class helped me push my limits and learn how to better handle the bike.
What was your first motorcycle? 2000 Harley Davidson Wide Glide.
How many have you owned? Two. I am now riding a 2008 Harley Davidson Electra Glide Standard.
Why did you want to ride a motorcycle? I love being outside. This will sound very stereotypical, but I love the wind in my face.
A secondary reason is that at one time, someone said to me, "women shouldn't drive motorcycles." I was up to the challenge!
Tell us about your riding.  I occasionally commute, but now most of my riding is for pleasure around the area. We live close to the Kettle Moraine and Holy Hill which provide some of the most wonderful riding in the Milwaukee-metro area.
We own a vacation home in New Glarus, WI and that area also has some awesome riding roads. We also take a vacation every year on the bikes. We have been all over the south. We have seen the Smokey's, the Ozarks and the Appalachians. I have ridden to Sturgis and Myrtle Beach Bike Week.
What advice do you have for women who ride or want to ride a motorcycle? First, don't ever let someone tell you that you can't or shouldn't ride. Second, take a MSF class and then practice, practice, practice.
Just like anything else in life, the more you do of something the better you get. Compared to my husband and his friends, I am a "newbie," even though I have been riding for almost 10 years.
I am still learning. Watch how experienced riders handle situations. Ask questions, but don't let anyone intimidate you! You can do it!
What is the longest trip that you've taken on your cycle? I think our ride to Myrtle Beach (from Wisconsin) was the longest. It is a little more than 1,000 miles one way. We rode for two days and then spent most of a week in the area exploring.
We rode to Charleston (beautiful place). We then spent a few days meandering home. We rode up through North Carolina, Virginia and West Virginia. There are some really beautiful roads in those states. We left West Virginia and rode straight through to Wisconsin which was my longest ride every, close to 700 miles.
Unfortunately, this trip was in early May which can be an unpredictable month in the Midwest. In one day, we went from 85 degrees to 32 degrees. It was a good thing we had packed all of our cold weather gear.
Do you belong to any motorcycle groups? I don't belong to any groups, but do read Women Rider's Now website weekly. The site is written by women riders for women riders. Genevieve Schmitt is a long-time women's riding advocate.
Do you have a favorite riding story? I actually met my husband because of riding. Every year, Harley holds the Fall Color Run in Tomahawk, WI. Tomahawk is in Wisconsin's north woods and is a beautiful place to be in mid-September (as long as it isn't snowing).
The first year I went, we stayed with friends outside of Tomahawk on Lake Natomis. We stopped at the bar/restaurants down the road from where we were staying and that is where I met my husband. We were engaged in Tomahawk on the fifth anniversary of our meeting. We go back every year to celebrate.
What do you do when you're not riding? I love being outside, so I garden, hike or just enjoy sitting in the sun reading.
Winters are long here in Wisconsin so a couple of year ago, I took up snowmobiling. I am not very fast on my snowmobile yet and still learning. Just like the bike. I have a very fun job as a trainer that I also enjoy very much.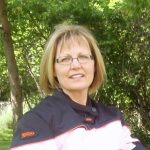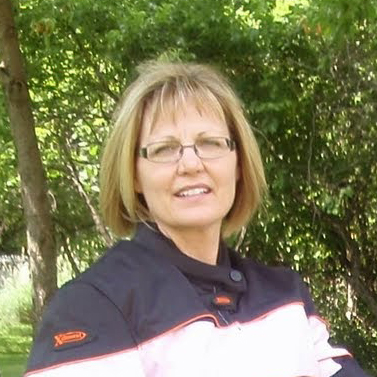 I am so glad you stopped by today! I started this blog to document my journey into motorcycling and along the way I met so many other lady riders with inspiring stories to tell I began to share theirs as well.
About the same time I started this blog I joined Twitter (@helmetorheels) and began to meet other female motorcycle riders. These ladies were so inspiring to me because I found other newbies like me to life-long experienced riders who were willing to share encouragement, tips, and their friendship. I was welcomed where I was on my journey. What an incredible community I found online to fuel my desire to ride.
Catch us on Instagram @helmetorheels and Pinterest @helmetorheels – we are just getting started!