Strap on your helmet, grab your jacket, gloves and boots because we are taking a trip to the other side of the world to meet our next lady rider! Pune, India to be exact so we can meet Firdaus Shaikh, nick name Dos, and on Twitter @EinsteinReload.
She also writes for two blogs. One is an automotive blog and the other on topics Firdaus likes! Check them out: Autozing51's Blog and TheWandererMind
Profile of a Female Motorcyclist Meet Firdaus
How long have you been riding a motorcycle? I started riding a motorcycle at the age of 4. Back then I'd try the mini-bikes that my cousins would ride. Post that by the age of 7 I was riding scooters and then progressed to riding full-fledged motorcycles by the age of 10. 
However given that I come from India where women riding motorcycles was not a pleasant thought until a few years back, I managed to get myself a motorcycle only when I turned 22.
How did you learn to ride? I learned to ride via observation. No one taught me how to ride a motorcycle.  I would observe my cousins while riding and one day just asked them what the various visible parts on the motorcycle did.
Once my cousin told me what the functions of an accelerator and brake are, I was sorted. I soon figured things out and was riding without any guidance within 15 minutes of getting on the bike for the first time. I only faced one problem – I never learned how to brake well. I face that issue till date, but I am working on it 🙂
What was your first motorcycle? The Honda QR was my first motorcycle. I had to share it with my cousins though. But post that my Bajaj Pulsar 180 Classic is my first motorcycle. It took me a while to convince my mom to get me one, but I have loved it since the time I got it.
In India higher cc motorcycles have been introduced legally just 3 years back, until then people would have to import higher capacity vehicles via the grey market. So for the longest time we Indians have been riding motorcycles under 250 cc. Back in the day when the Bajaj Pulsar 180 was launched, it was the most powerful machine one could get their hands on.
How many have you owned? I've owned two motorcycles so far- Honda QR and the Bajaj Pulsar 180 classic. However I like scooters too and have two of them. A 1987 Kinetic Honda and the TVS Wego. I prefer scooters during my daily commute to work as they are light weight and offer ample space while carrying groceries back home.
Why did you want to ride a motorcycle? A motorcycle is a symbol of freedom, expression, adrenaline and speed. And I have always been attracted to these things.
Also motorcycling has been in the family for years, so it was pretty obvious that I would get attracted to it. Each time I'm astride my bike, it takes away all the stress. I guess it's the dose of adrenaline that always works.
Being rebellious, the motorcycle was also the obvious choice for me. Riding a motorcycle is like having a love affair with your bike, just that this affair always lasts a life time.
Tell us about your riding. I am a bit of all- commuter, tourer, stunter and racer. However commuter and tourer is where I focus more these days. Given the whether in Pune, touring is something most riders tend to enjoy, especially during the rains.
And since in Pune, one cannot go places without a vehicle commuting also forms a big part of my biking. I don't get to race very often since the race tracks are in another state down south and it is not always feasible fly down for the races.
What advice do you have for women who ride or want to ride a motorcycle? For women who want to start riding motorcycles, I think they should by all means pursue their passion. People may come and tell you that a motorcycle is heavy- well that is the case for men as well.
A motorcycle is heavy only when stationary, when it motion it is as light weight as it can be. About your feet not touching the ground or you tip-toeing the bike- you don't have to ride the bike with your feet down! Just shed these thoughts and inhibitions and follow your heart.
Always remember to choose a motorcycle according to your riding style and comfort level. Try to get to know your machine and always ride with proper gear and most importantly don't get bogged down. Ever.
What is the longest trip that you've taken on your cycle? The longest trip I've done so far is my journey from Delhi to Ladakh last year. It was 2000 km (approximately 1242 miles) long journey on a Royal Enfield which I organized with my club- The Bikerni.
This ride was the first-of-its-kind in India, since never before has a ride of this magnitude with an all women biking club ever been done in India. We also registered the ride with the Limca book of records which is the like Guinness book of records for India.
I was instrumental in planning, strategizing and implementing the plan with fellow Bikernis. It was a memorable ride since I had been wanting to ride to Ladakh for the past five years and the feeling of riding to Khardung-la, the highest motorable road in the world was mind-blowing.
Do you belong to any motorcycle groups? During my initial biking days I was a part of two motorcycle groups – RSA (Rubber Smoking Angels) this was a stunt and drag race group. I learned a lot about stunting here and it has helped in many ways over the years.
The other group was Stunt Ride Gurlz, this was an all girl stunt group. I used to over see the events for this group. Unfortunately the group was dissolved a few years back.
I then co-founded The Bikerni with my friend Urvashi. In January 2013 The Bikerni turns 2 years old and this has been a major achievement for us! In the past year itself we have got tremendous response from the media and other biking clubs in the country.
The Bikerni also represents the Indian chapter of WIMA (Women's International Motorcycle Association). It is an online and offline club with a pan-India presence and over 120 members across India. We have regular club meets and rides and try our best to bring women with a passion for motorcycling together. It is our dream to make 'The Bikerni' one of the most popular and elite motorcycle club in the country.
Do you have a favorite riding story? Honestly no favourite riding story yet.
What do you do when you're not riding? When I am not riding, I am usually working. I work as a PR and communications executive and handle quite a few automobile brands. Besides that I am an avid photographer, writer and a serial tweeter (pun intended).
I love writing and motorsport. I make sure I don't miss a single MotoGP or F1 race and actively tweet during the race as well. I love traveling and racing. I have worked as an auto journalist and during this stint have been extensively exposed to motorcycling.
Have raced for dirt events, drag races and one-make events as well. I am one of the few women in India who have had the opportunity to ride almost all the superbikes available in the country – Honda, Harley, Suzuki, Ducati, Yamaha. I am yet to get my hands on the Aprilia, BMW and Triumphs though.
Profile of a Female Motorcyclist Meet Firdaus is as a great example of the woman who has rode longer than she has had a driver's license. Check out the other 4 Types of Women That Ride Motorcycles.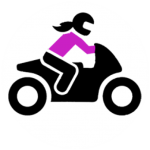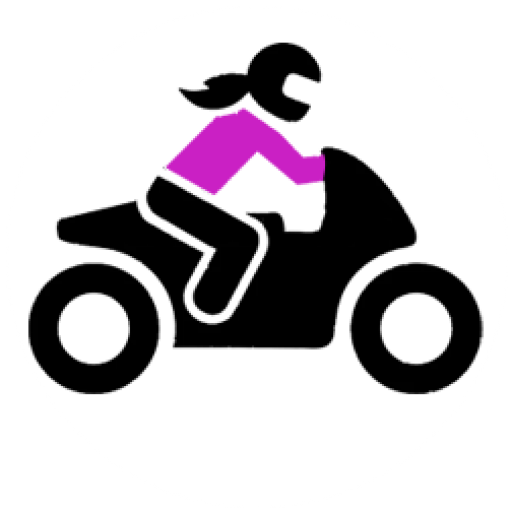 Thank you for stopping by Helmet or Heels female motorcycle community! I am always looking for more stories like your adventure into riding. Your experience, knowledge, and insight will encourage women in their motorcycling journey! Fill out the contact form and let's connect!
Catch us on Instagram @helmetorheels, Pinterest @helmetorheels or Twitter @helmetorheels – we are just getting started!