Serendipity. It means a "fortuitous happenstance" or "pleasant surprise". That is how I "met" my next guest. Read Profile of a Female Motorcyclist Meet Cellina. She is from Los Angeles, CA and blogs at Motorcycle House.
Profile of a Female Motorcyclist Meet Cellina
How long have you been riding a motorcycle? I have been riding motorcycle since I was 14.
How did you learn to ride? From my father.
What was your first motorcycle? Harley Sportster 1200
How many have you owned? I have owned 3 bikes.
Why did you want to ride a motorcycle? At first I loved to see the roads from passenger seat but later I felt I should behind the bars.
Tell us about your riding. I had my first trip as adventure motorcycling when I was teenager. Blue smoke and rarely made it out of third. I did not care that combination of freezing northern wind on my face, the smell of burning two-stroke and the realization that I am on my bike I could go anywhere started a love affair with motorcycles that continues to the day. That was my happiest day of my life.
What advice do you have for women who ride or want to ride a motorcycle? Just ride slowly and carefully. You must have four eyes while riding a bike.
What is the longest trip that you've taken on your cycle? Last year when I had gone with my mother to the hill station. That was my longest trip.
Do you belong to any motorcycle groups? Yes
Do you have a favorite riding story? Yes. I have many travelling riding stories.
What do you do when you're not riding? I write an article related to motorcycle ride and equipment.
Thank you Cellina for sharing!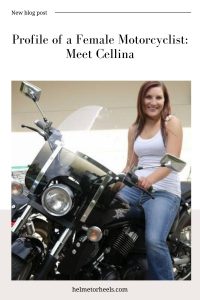 Pin an image to inspire other gals to become motorcyclists too.
Ladies, whether you are looking to start riding solo, a casual motorcyclist, a seasoned rider, or enjoying riding pillion you are all welcome to join in the Helmet or Heels community. I would love to share your story of motorcycling no matter where you are on the journey. It will inspire other women along the way.
Helmet or Heels female motorcycle community is reader-supported. When you buy through links on this site, I may earn a commission at no cost to you. I thank you for your support to help grow this female motorcycle community and inspire other women to ride!Catch us on Instagram @helmetorheels and Pinterest @helmetorheels – we are just getting started!