You just never know who you'll meet in cyber space! Today I'd like to introduce you to a woman that stopped by and left a comment on one of the profiles. Profile of a Female Motorcyclist Meet Colleen!
She mentioned being a California police officer, a motorcycle riding officer, and she teaches riding at a local community college. Of course after reading that I HAD to reach out and ask her to join us! And she graciously said YES!
Please warmly welcome Colleen a.k.a. Motopippi from Santa Cruz, Ca. Thank you Colleen for your public service. My helmet and heart are tipped in respect to you.
Profile of a Female Motorcyclist Meet Colleen
How long have you been riding a motorcycle?
I started riding my dad's Honda 350 when I was 16. No, he didn't know I was riding it in the back yard. I taught myself and even ventured on the road without a license and sometimes with my 15 year old sister on the back … just in our quiet neighborhood.
He had a crash with the bike that ended my riding adventures. Luckily, my dad wasn't hurt.
How did you learn to ride?
I really learned to ride when I bought a new Harley Sportster at 42 years old. I figured out how to ride and pass the DMV riding test by myself while I waited for my MSF course … there was a three month waiting list!
What was your first motorcycle?
My 883 XLC. It was purple and beautiful to me. I rode it 5000 miles in the first year and never went back to four wheels … unless I had a grandchild with me!
How many have you owned?
Let's see … the Harley, a BMW 650GS (the thumper), 2 Ducati Monsters (800 cc), a BMW F650GS (the parallel twin) and a BMW R1200GS which is my current ride. I'm on the lookout for a dual sport 250 that will fit a 5'03 1/2″ slim gal. The ground is always so far down there!
Why did you want to ride a motorcycle?
I remembered how it felt when I was young to ride. I had raised my two kids and they had licenses and I just had myself to get around.
My husband was supportive and I was tired of riding on the back of his bike. I've heard so many women echo that same sentiment!
I had no idea how riding would make me feel! If I felt down or overwhelmed by life, riding made me feel in control, capable and free. There is power, rhythm, expression, excitement and beauty in riding.
Tell us about your riding.
My bike is my favored mode of transportation. I ride anywhere and everywhere. My husband thinks I'm crazy because rain, shine or whatever, I ride. I've taken him into snow more times than I like to admit and he deals with it. Every vacation is a bike vacation with trips across the US and through the Alps.
Last year, I passed the California Police Officer Motor course so now I ride at work, too! I became the first woman to ride a police bike in our department's 145 year history. We ride Harley Road Kings so backing up 850 pounds of bike is a challenge for a short girl.
Thankfully, riding it is pretty easy although I had my own struggles to get to this point. Little girls wave at me and guys smile after they do a double-take. I've been told I look small next to my fellow officers on bikes.
I also teach motorcycle courses; the MSF Basic course and Lee Park's Total Control Advanced Riding Clinic. I love helping other people find their comfort level and improve their riding skills. The women riders appreciate the female perspective of riding, gear, mental aspects and bike selection that is sometimes missing when instructors are all male.
We all have our demons to face but it can increase the comfort level if someone speaks your gender language and can empathize with girl issues. The guys in the classes push themselves to try harder so they aren't embarrassed by a girl … and have fun, too!
What advice do you have for women who ride or want to ride a motorcycle?
Try out an MSF course. They supply the bikes and helmets [editor note: I had to supply my own helmet]. The environment is friendly and supportive with classroom and range instruction.
If you see a woman riding and you get the chance to ask her about it … do it! She'll tell you what makes her happy about riding and you'll make her day!
What is the longest trip that you've taken on your motorcycle?
Riding across the country has been my longest ride so far. One time, we rode 850 miles in one day but we usually go about 600-700 daily. Riding helps me forget about work and everything else so, for me, there is no better and more relaxing way to recharge.
There is a certain rhythm to long distance riding that I love. One day, I'd like to do an Ironbutt, Four Corners (of the US) and Alaska.
Do you belong to any motorcycle groups? Off or online?
Other than BMW MOA and AMA, no groups for me but I read motorcycle blogs all the time! I love to read about what other people (men and women) are doing!
Do you have a favorite riding story?
One day, our whole family of six was out riding. My son and daughter were on their own bikes and my two stepsons were on back, one with me and one with my husband.
We rode the coast and then went out to dinner! We've had lots of riding time together and I hope to have lots more. I can't wait till the grandchildren are ready to ride!
What do you do when you're not riding?
I'm never not riding, it seems but I do love to run, read Moto blogs and magazines and spend time with my family.
Both of my kids ride and I'm trying to encourage my daughter (who is also a police officer) to consider training to become a motor officer in her department as well!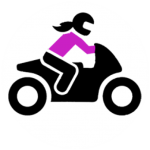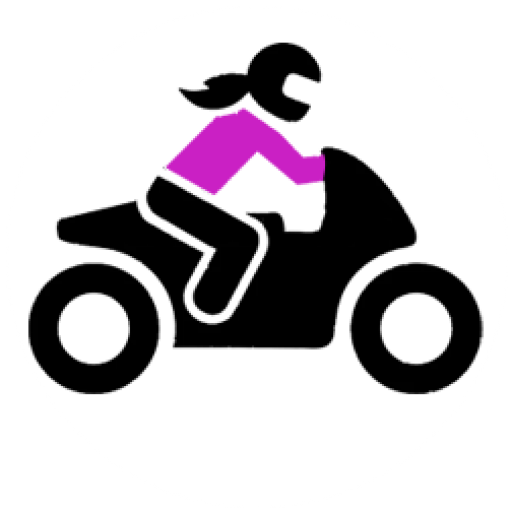 Thank you for stopping by to read Profile of a Female Motorcyclist Meet Colleen! I am always looking for more stories like your adventure into riding. Your experience, knowledge, and insight will encourage women in their motorcycling journey! Fill out the contact form and let's connect!
Catch us on Instagram @helmetorheels, Pinterest @helmetorheels or Twitter @helmetorheels – we are just getting started!