I don't know about you, but I'm having a lot of fun reading about all these women motorcyclists! Join me in welcoming Profile of a Female Motorcyclist Meet Donna, or as she is known online, Demenshea! Donna's blog Ride Like a Girl is a great read! Catch and follow her on Twitter @Demenshea too.
Profile of a Female Motorcyclist Meet Donna
How long have you been riding a motorcycle?
8 years
How did you learn to ride?
I took the Motorcycle Safety Foundation's class (MSF) in Sacramento. 
But one must realize that riding a motorcycle is a constant learning process.  One never stops learning how to ride a  motorcycle and the miles just keep adding to the smiles.
What was your first motorcycle?
1986 250 Honda Rebel.  A used Honda Rebel is a perfect learning machine for most people especially women, who need to be able to get their feet flat on the ground while learning for both balance and security.  The beauty of the old Honda is that you can pick one up cheaply, use it to learn and then resell to another learner for nearly the same price you purchased it for!  Another great starter bike is the Honda Nighthawk, for a more standard seating position, but a bit taller bike.
How many have you owned?
I have owned 6 bikes. The Rebel, 2003 1100 V-star, 2003 Triumph 955i Sprint, 2000 Suzuki 1200 Bandit, 2007 Suzuki 1250 Bandit, 2009 Kawasaki 650 Versys.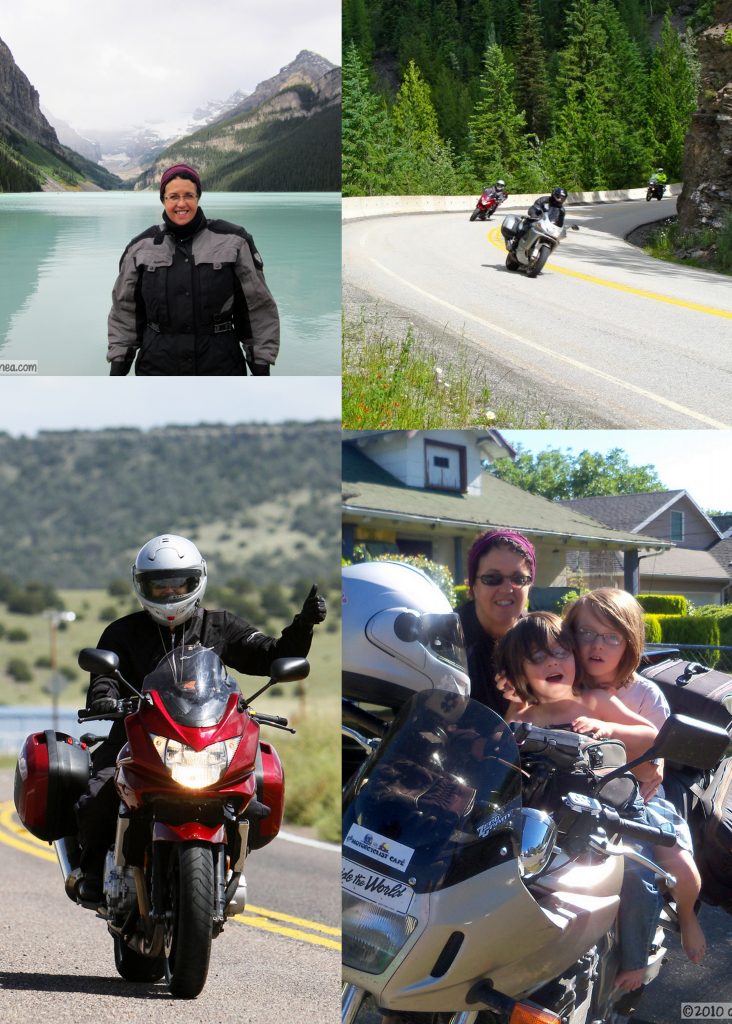 Why did you want to ride a motorcycle?
I rode behind my husband three times, and decided I wanted to be in control of the motorcycle and wanted to open air freedom of independent travel that you can only get on the seat of a motorcycle.
Tell us about your riding.
I am a distant tourer able to take several trips each year, usually covering between 20- 30,000 miles. I also do weekly rides in the Sierra Nevada Mountains, just for fun! 
I also try to get in as much California riding as possible. I live in a state with some of the BEST riding roads in America.  I am a very fortunate rider!
What advice do you have for women who ride or want to ride a motorcycle?
DO IT!!  If you have the desire, get the training at a local MSF or Riders Edge course and live your dream!
What is the longest trip that you've taken on your motorcycle?
I have taken several, but the one that stands out most was through seven states and two Canadian Provinces.  I covered about 8,000 miles in 21 days.
Do you belong to any motorcycle groups?
I belong to several motorcycle forums, as Demenshea, but no official groups. I did belong to the local chapter of Women on Wheels, but I prefer riding solo to any sort of group ride, so only belonged for one season. 
Belonging to a riding group is an awesome experience for many riders who seek a more social aspect of riding.  They usually provide monthly meetings and at least one organized group ride. If you are looking to meet other female riders, I can't think of a better way to do it.
Do you have a favorite riding story?
Several, but my favorites are the ones that I take riding skills from. One such example is the day I picked up my new to me Triumph and dropped it at the bottom of the owners driveway at slow speed hitting the front brakes only 3 minutes after paying for the machine.
He ran down yelling, "OMG, you dropped the bike, but it seems ok," and all the while I'm thinking, "I'm fine, thanks for asking." ; )
What do you do when you're not riding? 
I am a freelance artist and art educator, wife, mother, grandmother, sister, daughter, well u get it! ; )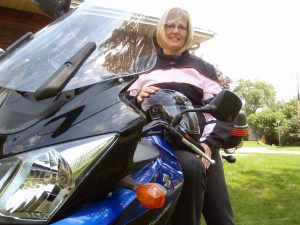 Thank you for stopping by and reading Profile of a Female Motorcyclist Meet Donna. Ladies, whether you are looking to start riding solo, a casual motorcyclist, a seasoned rider, or enjoying riding pillion you are all welcome to join in the Helmet or Heels community. I would love to share your story of motorcycling no matter where you are on the journey. It will inspire other women along the way.
Catch us on Instagram @helmetorheels, Pinterest @helmetorheels or Twitter @helmetorheels – we are just getting started!