I'd like to introduce our second Canadian lady rider. I'm pleased to welcome, Profile of a Female Motorcyclist Meet Sadie from Saskatchewan, Canada! I met Sadie or @aveldina on Twitter when I first started riding.
Profile of a Female Motorcyclist Meet Sadie
How long have you been riding a motorcycle?
This year is five years.
How did you learn to ride?
Grew up around quads, rode a dirt bike a few times as a teenager. When I finally had the income, I bought a CBR 125 one spring and went from there. Took a rider training course late in that same summer.
What was your first motorcycle?
2008 Honda CBR 125. Put 5000 km on that little bike. They are great little bikes, and really fun to learn on.
How many have you owned?
Three, the CBR then a Ninja 650 and finally the Ducati Monster 696. I also have a Honda NSR 50 mini road racing track bike.
Why did you want to ride a motorcycle?
I don't have a specific reason, and I didn't get into it with anyone. Sounds odd I know, but sport motorcycles have a special place in my heart. Like they say (Maybe it was Rossi?) It's something you do because you feel something inside.
That really sums it up for me, I ride because I deeply enjoy it. I don't have any real reason that I can spell out in words, I just love the feeling.
Tell us about your riding.
I commute to work during the riding season daily, and usually in all weather. It has to be pretty ugly before I'll leave the bike at home.
I ride for fun around the city, in the area and just out in the evening when I feel like going out for a rip. I do some riding with friends around the city.
We also do at least one week long vacation trip per year, generally out to the mountains and I travel within the province during the summer as well.
We are also involved in our local mini road racing club as we can afford to do it.
What advice do you have for women who ride or want to ride a motorcycle?
Don't let anyone talk you out of starting on a smaller machine that you feel totally comfortable on. There's something to be said for bikes like the CBR 125 that you can just throw around no problem.
That bike is full throttle, every gear, all the time, and many people have found it's just plain fun to rip around the city on that bike. It's hard to get yourself in trouble like you could on something bigger, and the CBR125 is so light it's easy to feel confident on it.
Get professional training, wear gear. Some of the most fun I've ever had riding was alone, when it's just me and the bike and I'm able to really focus on my riding so if you don't spend a lot of time riding alone (or you never ride alone) make sure you make some time for YOU!
What is the longest trip that you've taken on your motorcycle?
Right now the longest trip would be 3400 km and away for 1 week. I did a similar trip the previous year alone, and both trips have their moments that I'll never forget.
I have a hard time getting away from work, so I tend to do more weekend trips.
Do you belong to any motorcycle groups?
I have been involved in local sport riding and women's riding groups but distantly and generally only in riding events. Those are offline, obviously.
I'm also a member of our mini road racing club, and that's probably the group I enjoy the most.
I'm also involved in some local and area Ducati owner's club events and that's another group of people I really enjoy. I am involved in some twitter groups, notably #motochat weekly.
Do you have a favorite riding story?
Oh wow, how do I think of just one?
One of my favorite riding moments by far would be from when I went on my first long distance trip alone with the Ninja. On the second day I was in the OkanaganValley in BC on a Sunday evening, the highway was quiet, scenic and curvy and the weather was perfect.
It was just me and the bike and I enjoyed that ride so much. It's just one of those riding moments of absolute perfection that stay with you for a long time.
I've met a lot of people I wouldn't have met otherwise if I didn't have the bike. Lots of people always come up and talk asking me about the bike or telling me stories. I once followed another rider part of the way home in very cold, dark weather after visiting my sister.
I had been doing a lot of passing and wanted to just slow down and take advantage of the extra light. When we made it to the city he motioned to me to stop at the gas station/restaurant on the edge of the city, and I needed fuel anyway so I stopped. Here he wanted to say thanks for the extra light, and offered to buy me hot chocolate since we were both freezing.
Started talking and here it turns out he had once been a cop in the same area I grew up, and we had a good laugh about it. Stories like these you'd never experience without the bike.
There was also that time we went on a poker run charity ride with a few friends, one of which was riding a BMW GSA and had a GPS unit. Let's just say I'll never follow anyone with an adventure bike and a GPS again.
Nothing like a good long gravel road ride on sport bikes, in the rain. Even better when you have the Harley riding guest speaker for the evening's supper in your "hey let's take this quick detour" group. 🙂
What do you do when you're not riding?
I'm a software developer. That pays for the bike and agility haha. Besides that I have two dogs and spend the rest of my time involved in dog agility and volunteering for dog rescue. Besides riding, my dogs are the rest of my life.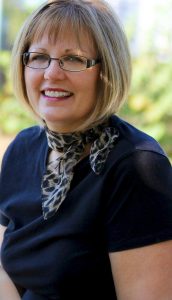 My name is Pam and I am so glad you stopped by today! Thank you for reading Profile of a Female Motorcyclist Meet Sadie. I started this blog to document my journey into motorcycling and along the way I met so many other lady riders with inspiring stories to tell I began to share theirs as well.
About the same time I started this blog I joined Twitter (@helmetorheels) and began to meet other female motorcycle riders. These ladies were so inspiring to me because I found other newbies like me to life-long experienced riders who were willing to share encouragement, tips, and their friendship.
I was welcomed where I was on my journey. What an incredible community I found online to fuel my desire to ride. 
Catch us on Instagram @helmetorheels and Pinterest @helmetorheels – we are just getting started!