Oh my, do I need to have music playing as I announce my next guest, Profile of a Female Motorcyclist Meet Elizabeth a.k.a. Queen?! We're good. Hold the Royal Anthem because my next guest is located a bit south of Portland, Oregon. She named her bike Bengal. Without further ado, here's Elizabeth's story!
Profile of a Female Motorcyclist Meet Elizabeth
How long have you been riding a motorcycle?
Bought my first motorcycle for myself on Mother's day, 2005.
How did you learn to ride?
I took at motorcycle safety class through HD, Riders Edge. However, I have a lot of previous experience on two wheels. Back in the mid 80's, right out of  college, I raced bicycles for a few years. Yes, the Lance Armstrong kind of racing.
This requires excellent bike handling skills, which we practiced on a regular basis. I also did some track racing which also requires quick reflexes in order to stay upright!
Paying attention to the pack around you, paying attention to the road, cornering, balance and precision all translated directly to my motorcycle training. Needless to say, I passed the class with flying colors!
What was your first motorcycle?
My first motorcycle was a 2003 anniversary edition HD 1200 custom Sportster named Christine.
How many have you owned?
I have owned three motorcycles. My Sportster, a Dyna Lowrider, and now my 2007 HD Streetglide.
Why did you want to ride a motorcycle?
I was dating a man who rode. He asked me if I would like to go on a ride with him and I said yes. When I was on the back, all I could see was this big head in front of me, and I felt like I was going to fall off the back!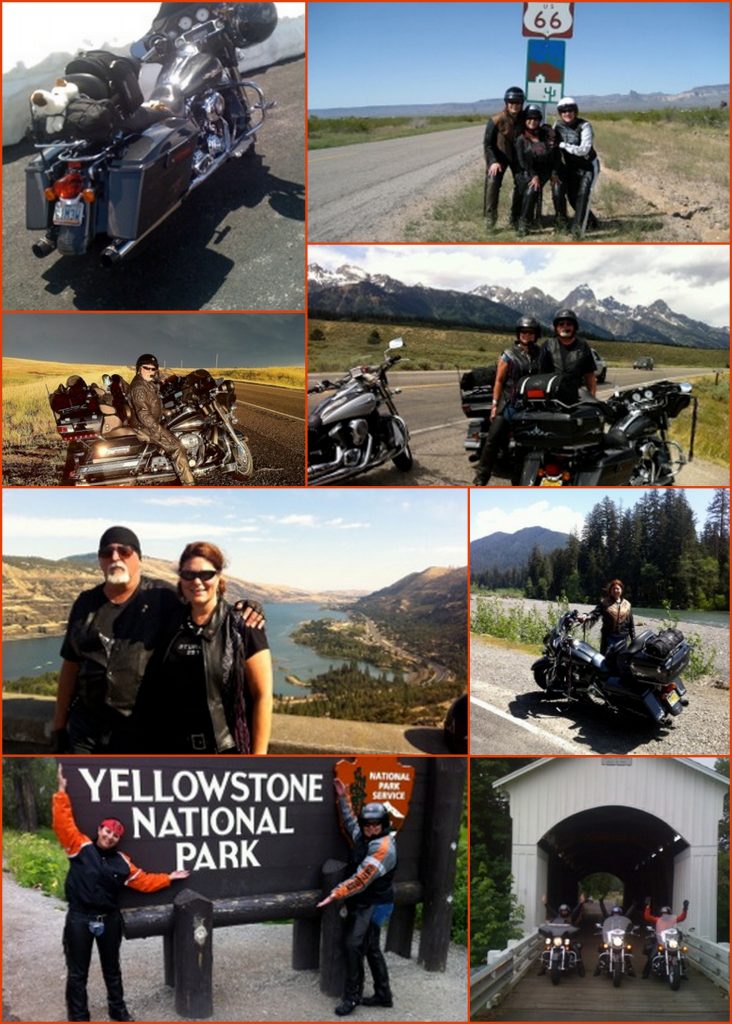 So, I said, if I am going to do this, I am going to take a class first to see if I like riding. The rest is history.
Tell us about your riding.
I ride for pleasure.
What advice do you have for women who ride or want to ride a motorcycle?
Lots of advice. I have mentored a friend who is now a great rider. Listen to those who have experience. Don't try to reinvent the wheel (pun intended). Take your time and ride to the level of where you feel comfortable.
If the group you are riding with leaves you behind, or rides beyond your skill level, find another group. Push yourself to learn new skills, keep taking classes.
Always wear your protective gear no matter how hot it is or hot you look without it. Those of us who have experience have seen what happens when someone hits the pavement.
Don't ride with a bunch of people who you do not know their level of skill. One person who is unsafe can jeopardize the entire group. Take your riding skills seriously. Learn your craft and then go out and have a ball!
What is the longest trip that you've taken on your cycle?
I have taken three long trips. I live in Portland, bought my bike in Phoenix, AZ and rode it home. I also have taken a 1200 mile trip up to Banff and Lake Louise with some girlfriends.
My boyfriend, another friend of mine, and I went to Sturgis last year, 3200 miles round trip! I am looking forward to doing more touring this summer.
Do you belong to any motorcycle groups?
I have a lot of friends but to be honest, the longer I have been riding, the smaller groups I like to ride with. So no, I am not a member of a group at this time.
Do you have a favorite riding story?
Like most of the ladies here, there are just so many! We saw some amazing sites on the way to and from Sturgis. I think one of my favorite stories I like to tell is how we got caught in a nasty hail storm somewhere in the middle of Wyoming.
We were headed west and about seven miles from the next town in the middle of NOWHERE. No trees, no houses, just lots of wheat fields. Well, I was noticing that the wind was picking up and my boyfriend was riding faster and faster.
We had the weather band on our radio and were hearing about a nasty storm that was close to the town where we were headed and was coming our way. My boyfriend was trying to outrun the storm and get to shelter before it hit. The skies were turning dark and the wind was howling into our faces.
Out of nowhere, a tumbleweed came right out in front of me and at that moment, I noticed that my friends headlight was not longer in my rear mirror. We pulled over and parked our two bikes downwind, so they would not get knocked over. 
Just then, my friend pulled up and the wind had actually blown her off the road! She was able to recover and made it to where we were. We huddled down next to the bikes, with our helmets on and my boyfriends arms wrapped around us like a protective blanket. The rain and hail was pelting us and the bikes.
After about 20 minutes, a car drove by us, pulled off the road and offered us shelter to ride out the storm. Boy, were we happy to get in out of the rain! The inside of that car smelled like a wet cow! Once the storm passed, I was able to snap some amazing pics. We continued on our way and will always be grateful for the young couple who came to the rescue of three bikers!
What do you do when you're not riding?
I have a wonderful child and boyfriend, that I love spending time with. I like to cook, read, wash my bike, and be a soccer mom. I am a full time working gal working for Wells Fargo as a Mortgage Banker.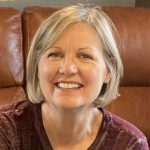 Pam, here and thank you for stopping by and reading Profile of a Female Motorcyclist Meet Elizabeth. Ladies, whether you are looking to start riding solo, a casual motorcyclist, a seasoned rider, or enjoying riding pillion you are all welcome to join in the Helmet or Heels community. I would love to share your story of motorcycling no matter where you are on the journey. It will inspire other women along the way.
Catch us on Instagram @helmetorheels, Pinterest @helmetorheels or Twitter @helmetorheels – we are just getting started!