This entire process of putting together Profile of a Female Motorcyclist Meet Janet has been amazing and humbling. Many women have responded, sharing their stories, wisdom, and insights into their lives. Wow. I had no idea how wonderful the whole thing would be!
Our next woman motorcyclist is Janet, from Des Moines, Iowa. She has a fabulous blog Biker Chick News, a great page on Facebook, and can be found on Twitter @BikerChickNews!
Profile of a Female Motorcyclist Meet Janet
How long have you been riding a motorcycle?
This is my 10th year riding solo. Prior to that, I had ridden a few times pillion, and as a teen I rode a bright green Honda Express moped.
How did you learn to ride?
My (very patient) husband taught me the basics; the state license test taught me a little; reading (mostly online) and riding have taught me a lot.
What was your first motorcycle?
My first bike was a 1982 Yamaha Exciter – it was a dorky commuter bike with a little plastic trunk on the back and a side mirror off my bicycle, but it was a great first bike.
How many motorcycles have you owned?
Five – the Exciter, a Honda 750 Shadow Spirit, an HD 883 Sportster, an HD 1200 Sportster, and my 2010 HD Super Glide Custom.
Why did you want to ride a motorcycle?
I wanted to learn to ride because, at the time, I was noticing how few women rode their own but those that did – looked completely cool and in control.
Tell us about your riding.
I love to take trips around the state, find great local diners, enjoy historic or interesting sites, and discover beautiful roads. Iowa is full of all three! I love rounding up a few friends and taking off for the day to a new destination somewhere in Iowa!
What advice do you have for women who ride or want to ride a motorcycle?
Don't let well-intentioned but horrified relatives rain on your parade – if you want to ride, do it … own it! Also, remember that even the best advice – "ride your own ride," "don't ride outside your comfort zone" – doesn't apply in every single situation for every single rider.
Have faith in yourself to apply what you've learned to a new situation.
What is the longest trip that you've taken on your motorcycle?
I've ridden to Sturgis, and around the Black Hills region, twice – about 2,200 miles total each trip. For whatever reason, I don't really have the "bug" to take a cross-country or other epic solo trip. At least not right now.
Do you belong to any motorcycle groups?  
I'm a current member and past officer in our local HOG (Harley Owners Group) chapter. I also have several close friends that I enjoy riding with – I guess we make our own group!
Do you have a favorite riding story?
It's impossible to pick one as a favorite! I maintain a blog about all my riding adventures at Biker Chick News, and the category called "Iowa Rides" contains a lot of my favorite stories.
So do the two Sturgis categories. And the category called "Estrogen Ride 2007." See? I really can't pick just one.
What do you do when you're not riding?
Unfortunately, I have to work for a living – but I love my job in the senior living industry so I guess that makes it okay. I love family activities, karaoke, gardening, genealogy, decorating and crafts, blogging, and connecting online through social media.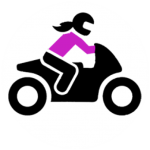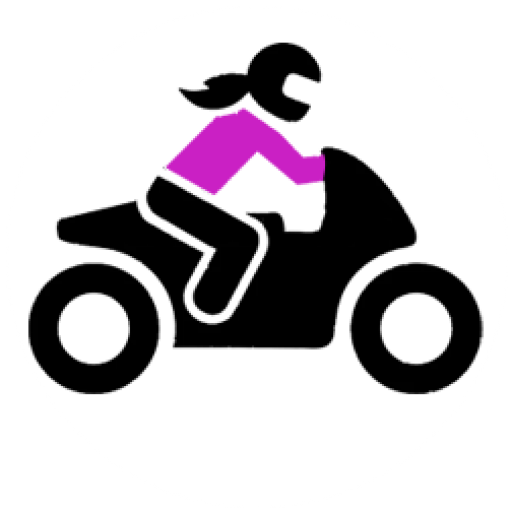 Thank you for stopping by and reading Profile of a Female Motorcyclist Meet Janet. I am always looking for more stories like your adventure into riding. Your experience, knowledge, and insight will encourage women in their motorcycling journey! Fill out the contact form and let's connect!
Catch us on Instagram @helmetorheels, Pinterest @helmetorheels or Twitter @helmetorheels – we are just getting started!