I don't know about you, fellow female motorcyclists, but I seem to not fit the "mold" of what people expect. Profile of a Female Motorcyclist Meet Kari is from Orange County, NY; engineer by profession and motorcyclist by choice!
Mold breaker extraordinaire. You can find and follow her on Twitter @karinajean! Check out her blog, karina jean | crafts, books, fish sandwiches, motorcycles! and other shiny things, you'll find lots of things that make you smile!
Profile of a Female Motorcyclist Meet Kari
How long have you been riding a motorcycle?
This is my third year!
How did you learn to ride?
I took the MSF/Riders Edge course.
What was your first motorcycle?
I rode for a full season on my partners SV650. The first motorcycle I've owned is my current DRZ400SM.
How many have you owned?
Just one!
Why did you want to ride a motorcycle?
I took the course because my partner loves riding and I wanted to give it a fair shake. Once I learned to ride, I found out that I am also really into motorcycling!
Tell us about your riding. 
I have a 90 mile/day commute and it's so much better on a motorcycle than in a car. We do at least one long (week+) trip with friends every year and lots of weekend trips.
I would LOVE to do track days but that's got to wait for a couple of years while we spend our money on more immediate concerns like fixing up our house. Sigh. Adult decisions!
What advice do you have for women who ride or want to ride a motorcycle?
Ride your own ride, stay strong and open to new and educational experiences, wear your gear, and get as much training as you can. You'll be amazing.
And watch out for well meaning advice. Lots of people will tell you stories about their friends who have wrecked – I think women get this more than men do – and it can be really frustrating to feel like your decision to ride and the preparation you're taking to mitigate the inherent riskiness of riding a motorcycle isn't trusted by your loved ones, friends, and colleagues.
Surround yourself with thoughtful participants in motorcycling if you can – either in real life or online – and trust your instincts.
What is the longest trip that you've taken on your motorcycle?
In 2010 we rode through eleven states in eleven days. We covered about 2500 miles. My ride report is here.
Do you belong to any motorcycle groups? Off or online?
I love the forums and participate there a lot. I also ride with a small group of friends – at a minimum, we do our annual long vacation ride together.
And I love keeping up with other motorcyclists through blogs and twitter!
Do you have a favorite riding story?
In 2010 we were at Bike Week in Myrtle Beach, and at one of the Harley dealerships we stopped at I had a hilarious encounter. Now, I am fairly scrappy looking on the bike – full power ranger gear, with riding pants and a filthy white jacket.
I ride a supermoto bike so it looks like a reject from the Planet Dirt Bike, and I have a "hat box" (top case) on the back at all times to carry my stuff. My helmet is white and at the time had a red racing stripe made out of sparkly tape. I was out of place at this dealership, and there was a big guy sitting on a bench with his biker buddies who agreed, and gave me a hairy eyeball as I got geared up to ride off.
As I got ready to start my engine I deployed my secret friend-making weapon – I rang the bicycle bell that I have strapped to my handle bars. That big biker dude? He LIT UP. He cracked a big smile, nudged his buddy on the bench, and said "I'm going to get one of those!"
The moral of my story is: No matter how different we look on our bikes, there's a basic joy of motorcycling that we all share. Even if some bikers try to cover it up with extreme toughness. 🙂
What do you do when you're not riding?
I'm an engineer who works in sustainability and environmental remediation.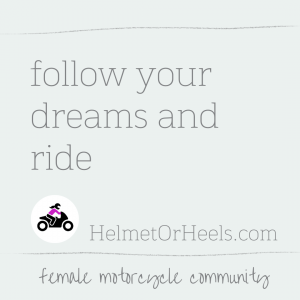 Wow. There you have another amazing Profile of a Female Motorcyclist Meet Kari! Ladies, whether you are looking to start riding solo, a casual motorcyclist, a seasoned rider, or enjoying riding pillion you are all welcome to join in the Helmet or Heels community.
I would love to share your story of motorcycling no matter where you are on the journey. It will inspire other women along the way. Leave a comment or fill out the contact form and let's connect!
Catch us on Instagram @helmetorheels, Pinterest @helmetorheels or Twitter @helmetorheels – we are just getting started!