Profile of a Female Motorcyclist Meet Madeleine is from Worcester, MA is our next lady rider! She has taken some long adventurous trips. You can find Madeleine on Twitter @mvelazquez57, on her blog Miss Rider which is filled with stories and pictures, and YouTube.
Profile of a Female Motorcyclist Meet Madeleine
How long have you been riding a motorcycle?
Around 25 years
How did you learn to ride?
Chasing my son around the trails riding dirt bikes. Love motocross!!!
What was your first motorcycle?
Street bike, Kawasaki Vulcan 500 (hated it). Dirt bike, Yamaha 125 something, don't remember any more.
How many have you owned?
9 including dirt bikes
Why did you want to ride a motorcycle?
The thrill, fresh air, freedom, excitement (too many fun words to describe why)!
 Tell us about your riding.
Commute to work, mostly on a 50cc scooter now.  Pleasure riding.  But mostly, long distance touring, like coast to coast alone.
What advice do you have for women who ride or want to ride a motorcycle?
Get on two wheels and ride, ride, and ride some more so you can get so tired and sleep at night.
What is the longest trip that you've taken on your motorcycle?
Coast to coast alone.  (Check out her blog for the story.)
Do you belong to any motorcycle groups?
I do not belong to any one. I am a member and ride with the Latin American Motorcycle Association. This is our International site, we are the largest motorcycle association in the world.
Do you have a favorite riding story?
Yes, read about it here in my blog. (Check out the pictures too!)  I have so many wonderful riding stories, but this one is my favorite because it involves the animals.
What do you do when you're not riding?
I ski in the winter and professionally dance salsa.
Profile of a Female Motorcyclist Meet Madeleine is a hard core long range solo lady rider! Woof.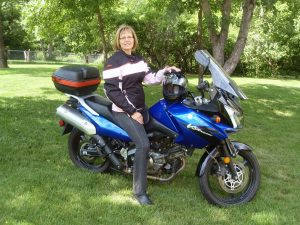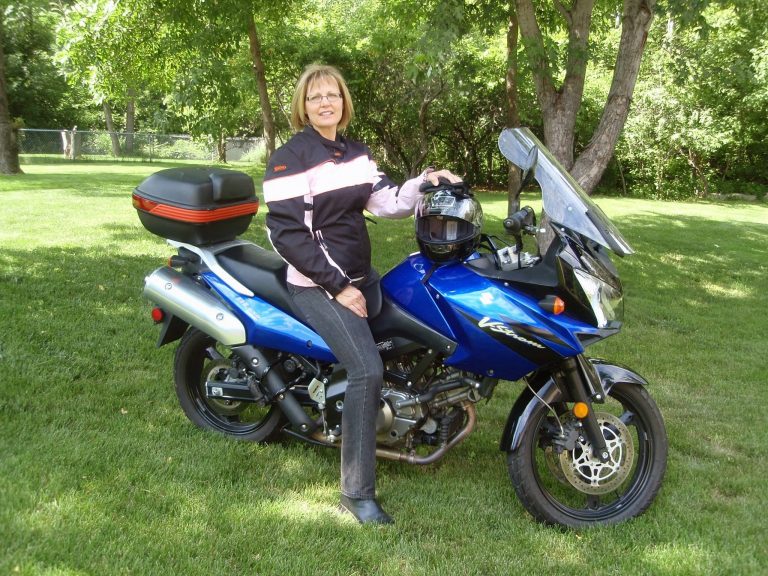 Ladies, whether you are looking to start riding solo, a casual motorcyclist, a seasoned rider, or enjoying riding pillion you are all welcome to join in the Helmet or Heels community.
I would love to share your story of motorcycling no matter where you are on the journey. It will inspire other women along the way. Comment or fill out the contact form and let's connect!
Catch us on Instagram @helmetorheels, Pinterest @helmetorheels or Twitter @helmetorheels – we are just getting started!