I have another Profile of a Female Motorcyclist Meet Melissa! We have "met" so many fabulous women through these profiles. We are a growing group and there is no mold to define us!
I'd love to keep this going giving lady riders a voice to share their stories. Whether you are more of a newbie like me, a road warrior, or moto racer I want to hear from you!
My next guest is Melissa a.k.a. @Meligirl13 from Oceanside, CA. Check out her web site MelissaParis.com for more information, pictures, and videos.
Profile of a Female Motorcyclist Meet Melissa
How long have you been riding a motorcycle? I've been riding motorbikes for just about 10 years…
How did you learn to ride? My boyfriend in college rode … which was a big part of why I wanted to date him I think =D He taught me to ride.
What was your first motorcycle? My first bike was Kawasaki EX-250 … I was bored of it after about two months though and got a Yamaha FZR-600.
How many have you owned? a lot… haha
Why did you want to ride a motorcycle? I'm not sure what it was that attracted me to riding. Something in the back of my mind just kept telling me I needed to do it.
Tell us about your riding. Racing…
What advice do you have for women who ride or want to ride a motorcycle? If you want to ride … ride. Being a girl shouldn't affect that decision!
What is the longest trip that you've taken on your cycle? Does the Daytona 200 count as a long trip?
Do you belong to any motorcycle groups? No groups per se … But I am a member of CVMA which is my local club for racing!
Do you have a favorite riding story? Any riding story that ends with me having a trophy in my hands usually is a favorite =D
What do you do when you're not riding? Mainly think about riding…
Wow! This Profile of a Female Motorcyclist Meet Melissa show just how AH-mazing lady riders are! What Types of Women Ride Motorcycles – where does Melissa fit? There are almost 100 lady riders profiles on the blog – so many different types you are bound to find inspiration to ride!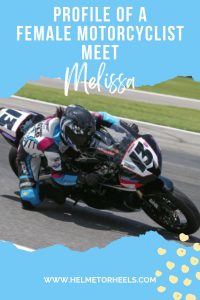 Ladies, whether you are looking to start riding solo, a casual motorcyclist, a seasoned rider, or enjoying riding pillion you are all welcome to join in the Helmet or Heels community. I would love to share your story of motorcycling no matter where you are on the journey. It will inspire other women along the way.
Catch us on Instagram @helmetorheels, Pinterest @helmetorheels or Twitter @helmetorheels – we are just getting started!