Okay friends, I'm pulling in a favor or two for a friend of ours Marilyn a.k.a. Chessie. She is one of four people picked by Garage-Girls to compete in their Garage-Girls Ultimate Biker Makeover!
For those of us who follow Chessie's blog you know she is an extremely talented photographer and writer. Many a time I've visited her blog and have been floored by the beauty of the image and the thoughtfulness of the text she chooses.
Chessie has been an encouragement to me in my journey on two-wheels and I would like to help her win this competition.
Pulling in a favor or two for a friend
Marilyn is riding a Sportster that is almost 19 years old and has close to 200,000 miles on her! Check out her blog, but please drop over to Garage-Girls, read her story, and vote for Marilyn Bragg. Together let's vote her in to win a motorcycle make-over!
P.S. Spoiler alert – she won!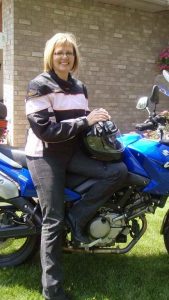 Pam here, and I'm so delighted you came by today. I started this blog to chronicle my introduction to riding a motorcycle, but as I went along, I met so many other female riders who had wonderful tales to share that I started sharing theirs as well.
I joined Twitter (@helmetorheels) at the same time I launched this blog and started networking with other female motorcycle riders. I met other rookies to lifelong seasoned riders who were willing to provide encouragement, advice, and their relationship with me, which is why these women were so motivating to me. Wherever I was on my journey, I was welcomed. What a wonderful community I discovered online to fuel my passion for riding.
Follow us on Pinterest @helmetorheels and Instagram @helmetorheels because we are just getting started!