I'm looking to replace the riding boots I've been wearing before next season. So I'm shopping for motorcycle boots. Truth be told they are a pair of leather over-the-ankle boot with an inch heel not a true motorcycle boot. >Gasp< They offered protection for this newbie who hadn't been on an interstate until this season. Which brings me to believe I need new boots. Not to mention I've worn the sole out leaving me without traction.
I've been on a few sites but not sure what I should get or why. Friends, I'm asking for your recommendations. What motorcycle boots should this novice be looking at? One of the problems I have had is that I have big feet and a normal width. I wear a 10 1/2 – 11 in women's shoes. TMI?
Shopping for Motorcycle Boots
O'Neal 0325-708 Womens New Logo Rider Boot 
This is a pretty hardcore riding boot. Lots of protection with plastic reinforcements and a metal shank too. My question to y'all would be is this a boot you would wear everyday commuting or just long distance adventure riding?
HARLEY-DAVIDSON FOOTWEAR Women's Amherst Motorcycle Boot
What about these Harley-Davidson's motorcycle boots? All leather. Seems heavy duty and sturdy. When and where would you wear these boots?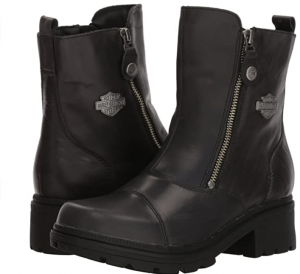 Alpinestars Women's Stella SMX-1 R Street Motorcycle Boot
This last pair of motorcycle boots has "street" in its name so I'm guessing this would be an everyday type. Velcro closures and reinforced. Seems legit for keeping your feet safe!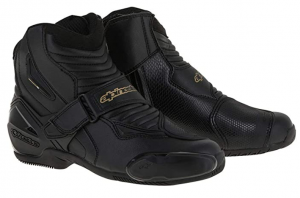 What do you wear riding?
Ladies, whether you are looking to start riding solo, a casual motorcyclist, a seasoned rider, or enjoying riding pillion you are all welcome to join in the Helmet or Heels community. I would love to share your story of motorcycling no matter where you are on the journey. It will inspire other women along the way.
Helmet or Heels female motorcycle community is reader-supported. When you buy through links on this site, I may earn a commission at no cost to you. I thank you for your support to help grow this female motorcycle community and inspire other women to ride!
Catch us on Instagram @helmetorheels, Pinterest @helmetorheels or Twitter @helmetorheels – we are just getting started!