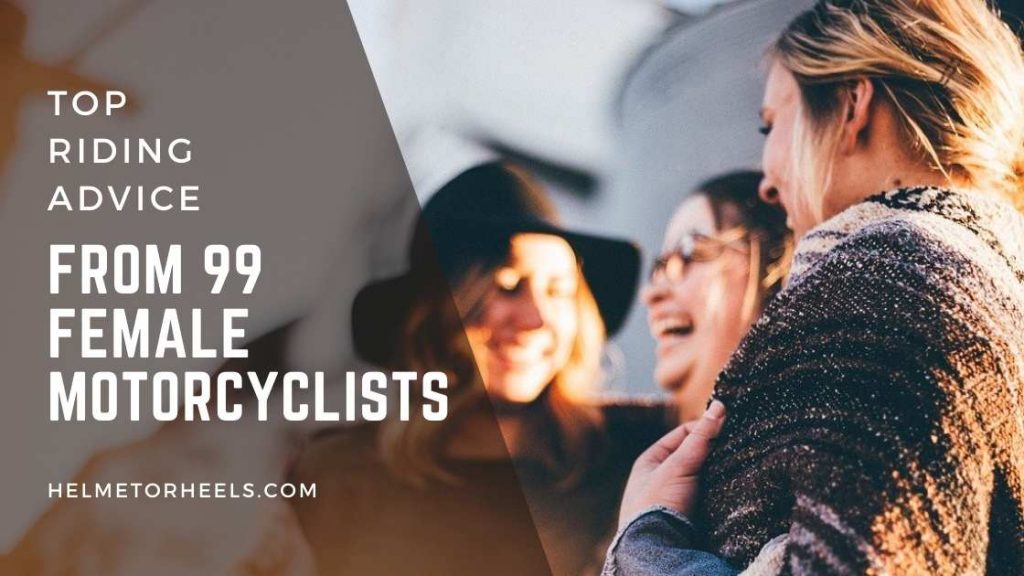 Here is the top riding advice from 99 female motorcyclists when asked, "What advice do you have for women who ride or want to ride a motorcycle?" It was unsurprising that their advice was divided into several categories while emphasizing the same points.
Through social media, I've met over 99 female motorcyclists from all over the world. I have learned so much from these amazing women. They have shared their stories and experiences, and helped me to realize my dream of riding a motorcycle. They have freely offered their advice and support to share with the Helmet or Heels community, and I am so thankful for that. Here is what they had to say!
Top Riding Advice from 99 Female Motorcyclists
As a woman, should you ride a motorcycle?
So many women responded, they would say to other women, "Go for it!" Don't let others tell you that you're too small to ride a motorcycle, that you lack coordination, or that you lack courage! Or that you are either too old or too young! Age is unimportant.
Many ladies expressed regret that no one had told them that it is normal to be scared. Fear can be overcome with practice and experience. However, excitement can cause butterflies before every ride!
If you want to ride, go ahead and do it. Being a female should have no bearing on that decision. Do be put off by anyone. There is so much fun to be had on two wheels and so many great people to meet. Riding a motorcycle opens up a whole new world. Do it!
Where do you begin if you want to learn to ride a motorcycle?
The most common recommendation from the lady riders around the world was to first take a Motorcycle Safety Foundation (MSF) course, or its equivalent in your country. It will help you to see how you like it and gain real-world experience. Certified instructors will teach you. You will learn much more than just how to ride a motorcycle from these instructors.
Many of the women said that in most cases, you should not let your significant other teach you how to ride a motorcycle. The student/teacher dynamic will cause conflict no matter how much you adore your significant other. Avoid at all costs. Paying for a certified course is well worth your time and money.
What are a few "first" motorcycle guidelines?
These 100 women provided excellent advice for your first motorcycle! In general, they recommend purchasing a used, low-cost motorcycle. Why? First and foremost, you do not need to be concerned about dropping it. It could happen while you are learning.
Begin on a bike that fits your needs. Only you know what you're comfortable with, and if that's a 250, go ahead and get one. Don't feel you have to have a bigger bike to start with. Don't play the numbers game, it doesn't matter. Riding is a personal experience.
Gain experience and, when ready, upgrade to a larger bike. Beginner bikes are always in demand. It's better to start small and gain confidence than to start big and scare yourself out of riding.
Is it necessary for a beginner to have motorcycle gear?
YES! Before your first ride, make sure you have the proper motorcycle gear. Commit to ATTGAT – All The Gear All The Time – No Exceptions. Wear a helmet, jacket, gloves, pants, and boots that fit properly. Every time you ride, wear a helmet! It doesn't matter what your hair looks like after a ride – all that matters is that you rode!
Motorcycle gear protects you from more than road rash! It protects you from bugs (June bugs are the worst), road debris, and weather to name a few things. Good gear can save your skin and your life, and you can never predict what's going to happen on the road, so gear up.
What steps do you take to get ready to ride a motorcycle?
Many female motorcyclists stated that a ride begins with checking your motorcycle before you leave. Checking your tires, controls, lights/electrics, mirrors, oil, and fuel takes only a few minutes and could save your life.
The same is true for your safety gear. Check that everything fits properly. Examine your equipment for fraying straps or degrading stitching. Are the zippers and velcro in good working order? Boots, both the soles and the area where they come into contact with the shifter are they worn? Remember that it is your responsibility to perform these inspections to ensure that they function in accordance with the manufacturer's warranty.
What motorcycle riding tips do you have?
Maintain constant awareness of your surroundings. Once on the road, assume that no one sees you, so always be prepared for the unexpected. People in cars and trucks, unfortunately, do not see motorcycles due to all of the distractions. Think about what you want to protect, wear the best gear, scan traffic constantly, anticipate, and keep your guard up.
Don't give in to peer pressure. You don't have to feel obligated to keep up with faster riders. Leave your ego at the door; you have nothing to prove to anyone. Ride with experienced and responsible riders who share your values. Ride safely.
Some Final Advice For Women Who Want To Ride a Motorcycle From 99 Female Riders
The riding tips from these 99 female motorcyclists are full of wisdom and demonstrate their desire to help us become better riders as well. I hope you find it as useful as I did. Bottom line, continually learn. Don't get discouraged when you are working on improving, just keep learning.
Practice, practice, practice for those who already ride, as well as try taking a couple schools and don't be afraid to learn. Getting your confidence and going at your own pace is really important. Don't outstretch yourself. You can do this! Make sure you are having fun and being safe.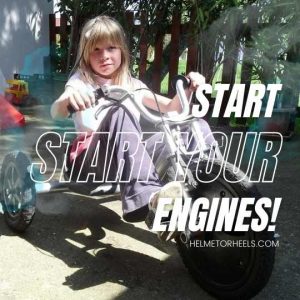 Thank you for stopping by Helmet or Heels female motorcycle community! I am always looking for more stories like your adventure into riding. Your experience, knowledge, and insight will encourage women in their motorcycling journey! Fill out the contact form and let's connect!
Catch us on Instagram @helmetorheels, Pinterest @helmetorheels or Twitter @helmetorheels – we are just getting started!