I was thinking back to my youth and remembered listening to song over and over and over again.
We Are Women
After playing it today I was reminded of all the women that have shared their stories in my Profile of a Female Motorcyclist series and my heart melted. What a group of incredible women who have faced many challenges and survived, no THRIVED!!
If you are new to the blog check out the category on the right titled, "Lady Riders" and learn about some great women. What makes them fabulous is who they are, great or small, iron butts or scooterists, single or married! They all face life with a contagious enthusiasm and joy.
So what's missing from these profiles? It is your story. I've had a few women tell me their story is boring, but afterwards they agree they have a voice and something to say. What about your story on how you got on two wheels? I'd love to share it. Let's add your piece to this mosaic of female motorcyclist!
We are women hear us roar!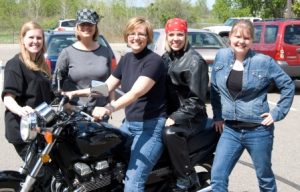 Ladies, whether you are looking to start riding solo, a casual motorcyclist, a seasoned rider, or enjoying riding pillion you are all welcome to join in the Helmet or Heels community. I would love to share your story of motorcycling no matter where you are on the journey. It will inspire other women along the way.
Catch us on Instagram @helmetorheels, Pinterest @helmetorheels or Twitter @helmetorheels – we are just getting started!