A recent tweet from @JuJu21 (meet her here) got me thinking about cool weather food! She had declared oatmeal season officially open and I chimed in with chili, and her response was soup too!
And then I thought I'd throw out a fall food challenge to see what you like too. If you blog, blog about it and let me know I'll link to your post. If you want to submit a recipe via the comments, please do! I love trying new recipes. Here's mine! A long family favorite tradition.
Fall Food Challenge
Apple Pancake
You'll need a seasoned 10 1/2″ cast iron frying pan and preheat the oven 400 F.
Ingredients
3/4 cup milk
3 eggs
3 tablespoons sugar
3/4 cup flour
4 to 6 apples
Peel and cut apples. Saute in butter using the cast iron frying pan. Set aside.
Beat eggs; add remaining ingredients. Beat until smooth. Pour mixture over sauteed apples. Bake 15 minutes. Sprinkle sugar/cinnamon mix over top and dot with butter. Bake 5 minutes more.
Enjoy! And share your favorite too!
P.S. Check out this post featuring these Tasty Potatoes!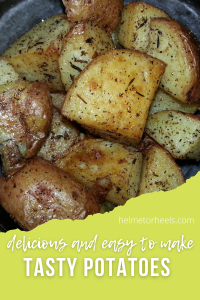 Ladies, whether you are looking to start riding solo, a casual motorcyclist, a seasoned rider, or enjoying riding pillion you are all welcome to join in the Helmet or Heels community. I would love to share your story of motorcycling no matter where you are on the journey. It will inspire other women along the way.
Catch us on Instagram @helmetorheels, Pinterest @helmetorheels or Twitter @helmetorheels – we are just getting started!