I'm back! Yes. I am back to motorcycling after all these years away.
Brief history behind stopping
It was recommended by a few neurologists that I stop riding because of a health incident – that was nine years ago. If you really want the deets check out this post What is Wrong with this Picture.
Back to the Present
Fast forward to April 2022 and my hubby's birthday was coming. I wanted to get him something motorized with two wheels to ride to work. His commute is about 2 miles round trip. And he has arthritis that bothers his hip joints so a scooter would be a good solution – pass leg through rather than throw over.
With the help of my son we found a used 2013 Honda PCX 150 for around a thousand bucks! What a fun ride. Just twist and go! Ladies or gentleman, if you are unsure about riding a motorcycle a scooter would be a great place to gain experience and confidence on two wheel.
Check it out. I took a ride around the block and was bitten (again) by the riding bug.
My hubby was thrilled with his surprise birthday present. He rides to work almost everyday. Easy to handle and goes for miles and miles on a tank of gas.
And so the conversations began about me getting back on a motorcycle. I have not had another "event" in all these years so what was stopping me? We had a few more talks about me riding. That was it.
Back to Motorcycling after All These Years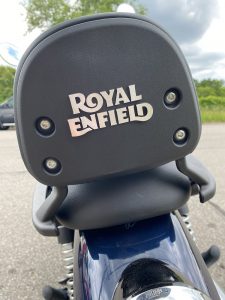 Our 43rd wedding anniversary was coming up and hubby took me shopping at the ROYAL ENFIELD dealer GoMotoMN! He had done some research and thought that the Meteor would be a good bike for how I would ride but left the decision up to me.
I so appreciated Adam, owner of GoMotoMN, who was so helpful and spent time talking with me about the different motorbikes and a new helmet. Ladies, if you go shopping for gear or a motorcycle make sure the sales person gives the attention and respect you should receive.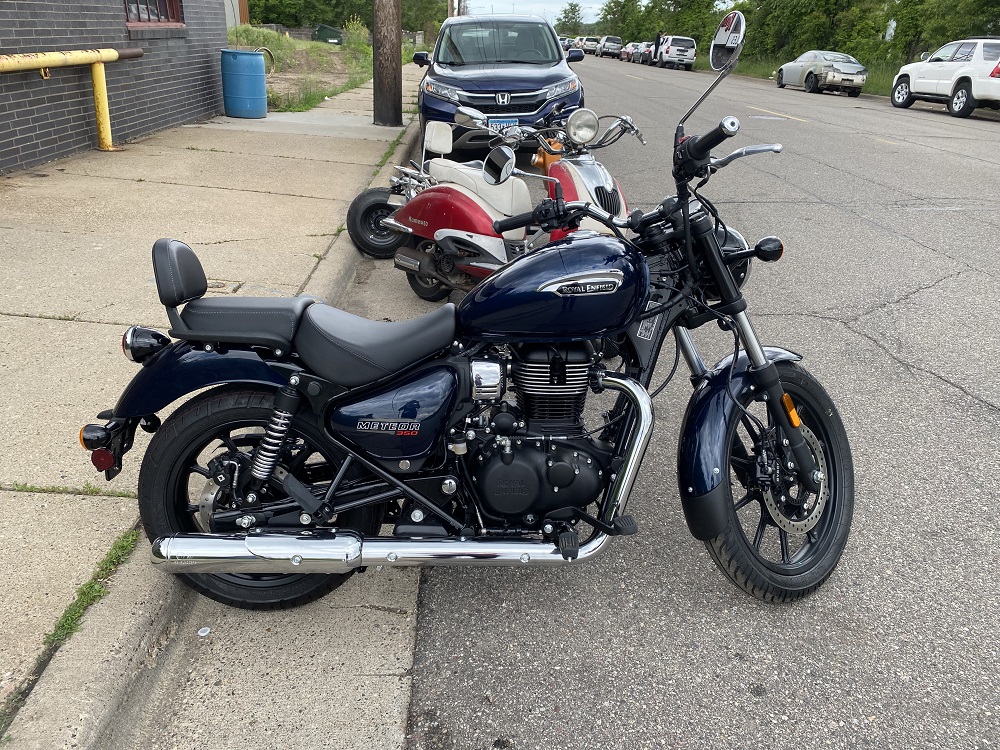 My New Motorbike
Threw one leg over a Blue Meteor and it felt right. Had a bit of fear wondering if I would remember how to ride after all these years. After a quick review, I rode the Royal Enfield home. Thank God for muscle memory. On the way home I was riding everything from city streets to highways to residential roads. It was glorious!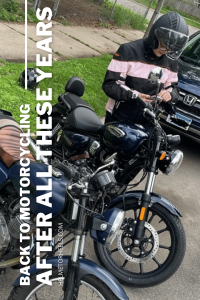 I'm back to motorcycling after all these years and loving it! Have you ever had a gap between riding and/or owning a motorcycle? What is your story?